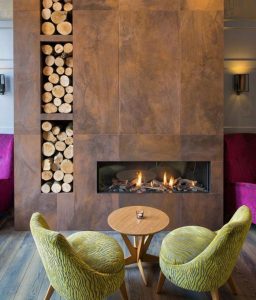 It is officially FALL!
I love the summer season – mainly because my birthday is in July 😉 – but there is nothing like the crisp cold air and putting on that fuzzy sweater and UGGS!
What I love even more, are the holidays and getting that fireplace going. Is there anything better than listening to Christmas music along with the crackling sound of that fire? Yeah, not really!
There are so many different looks for a good fireplace.
I personally like the sleek, horizontal modern look OR a farmhouse brick vibe that gives you that nice cozy "at home" feeling. Back in the day (as in a few years ago), many people had a huge built-in entertainment center. Some people still do!
However with the world moving at such a rapid pace, there isn't a need for all the compartments of an entertainment center. You can basically stream anything with a Smart TV or Apple TV – so many people don't even use cable thanks to Hulu and Netflix! I think when it comes to a fireplace, less is more! It will look a lot cleaner and be more of a focal point in your home if you get rid of all the "stuff" around it!
Below is a link to our Pinterest board with some of my favorite fireplaces. Some of our readers might even recognize one or two from our previous sales!
https://www.pinterest.com/klingerealty/fireplaces-galore/
And for those that don't have a fireplace but still want the feeling, once it gets closer to the holidays you can stream "The Yule Log" on your TV. I used to play it all the time in college. It's a video of a wood burning fire and it plays Christmas music – it is very soothing and calming. So for those that hate the mess of an actual fire, this is the way to go!
Happy Tuesday!