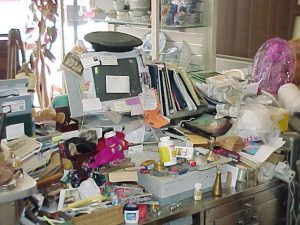 Hat tip to daytrip for sending this along:
Most of us know we own too much stuff. We feel the weight and burden of our clutter. We tire of cleaning and managing and organizing. Our toy rooms are messy, our drawers don't close, and our closets are filled from top to bottom. The evidence of clutter is all around us.
Today, increasing data is being collected about our homes, our shopping habits, and our spending. The research is confirming our observation: we own too much stuff. And it is robbing us of life.
Here are 21 surprising statistics about our clutter that help us understand how big of a problem our accumulation has actually become.
1. There are 300,000 items in the average American home (LA Times).
2. The average size of the American home has nearly tripled in size over the past 50 years (NPR).
3. And still, 1 out of every 10 Americans rent offsite storage—the fastest growing segment of the commercial real estate industry over the past four decades.
4. While 25% of people with two-car garages don't have room to park cars inside them and 32% only have room for one vehicle.
5. The United States has upward of 50,000 storage facilities, more than five times the number of Starbucks. Currently, there is 7.3 square feet of self storage space for every man, woman and child in the nation. Thus, it is physically possible that every American could stand—all at the same time—under the total canopy of self storage roofing.
6. British research found that the average 10-year-old owns 238 toys but plays with just 12 daily (The Telegraph).
7. We have 3.1% of the world's children living in America, but they own 40% of the toys consumed globally (UCLA).
8. The average American woman owns 30 outfits—one for every day of the month. In 1930, that figure was nine (Forbes).
Read full article here: