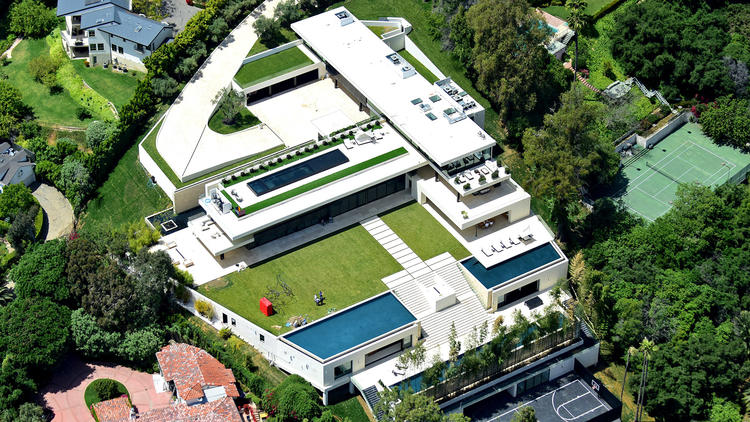 Even the rich and famous have trouble buying a home….
The "will they or won't they" debate is over: Jay-Z and Beyonce have finally bought a home in L.A.
Sources not authorized to publicly comment on the sale have confirmed that the rapper/hip-hop magnate and his superstar wife have closed on a modern mansion in Bel-Air. The purchase price is said to be $90 million, though the sale has not yet been recorded in the public record.
Completed this year, the sprawling showplace comprises six structures with approximately 30,000 square feet of interior space. Expansive patios and terraces create an additional 10,000 square feet of living space outdoors.
Amenities include spa and wellness facilities, a media room and four outdoor swimming pools. Glass-walled common areas open on two sides to enjoy panoramic views. The pocketing glass doors and windows are bulletproof.
Also within the approximately two-acre compound is a full basketball court and separate staff quarters. There is garage space for 15 vehicles as well as a motor court and an area for staff parking.
The home was developed by Dean McKillen, the son of Irish billionaire and property investor Paddy McKillen, who four years ago purchased the property through a corporate entity for $15 million.
The new development was never publicly offered for sale, but carried an asking price of $135 million, according to real estate sources.
The purchase finally puts to bed years of rumor and speculation connecting Jay-Z and Beyonce to other luxury homes across Los Angeles' Westside. Among the couple's purported misses was L.A.'s "most extreme home," which sold to Minecraft creator Markus Persson for $70 million, and a modern Holmby Hills estate that they once paid $200,000 to lease for a month.
Once recorded, the $90-million transaction will be the highest this year in Los Angeles County, besting the $85-million sale of David Geffen's compound in Malibu. It will also tie last year's sale of storied Owlwood for the third-most expensive historically in the L.A. area.
Save