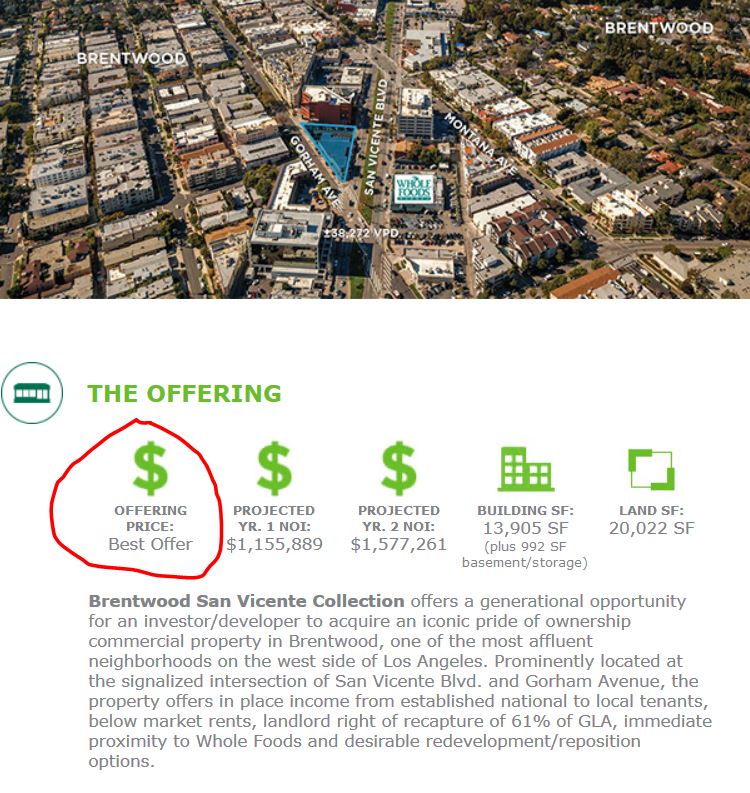 There was quite a bit of hubbub this week about the Zillow Instant Offers program being tested in two cities. Seller inquiries are sent to as many as 15 investors plus a Premier Agent, who gets to make their own pitch for the business – and one realtor reported that she has already received 48 inquiries!
If that is behind the paywall, the article can be summed up by saying that the agent has submitted proposals to the seller leads, but none have responded. She will knock on some doors to see if she can drum up some business, and she is willing to shepherd the sellers through an investor deal for $1,500.
But why restrict the offers to just 15 investors and one agent?
Let's let everyone have a shot at it!
Everyone could make an offer if Zillow had a 'Submit Your Offer Here' button.
They have the Make Me Move feature already, but that's where the seller states the price they want. If their was no list price, like some of the commercial brokers do (see image at top), sellers could conduct their own price discovery.  Who knows, maybe they would receive an appealing deal or two?
Our list price gives potential buyers some guidance.  But do they need guidance?  And if there was no list price, might they be willing to pay more than the sellers expected?
The result would be a slow-moving auction, with agents having plenty of opportunities to plug in and provide value to buyers and sellers.