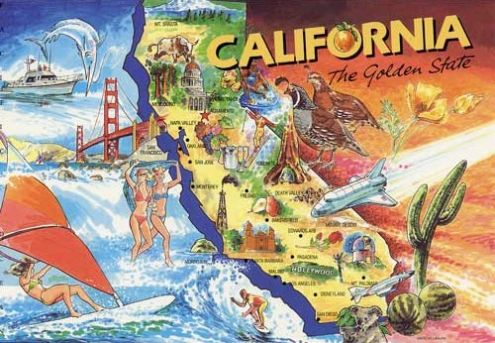 This is a bit of a surprise, but you don't have to be rich to stay put!
http://www.ocregister.com/2017/05/07/california-the-state-where-people-dont-move/
IRS data for 2015 shows 207,861 tax filers — a good estimate of households — from other states lived in California the year before. We may miss those old relatives or friends, but they add up to only 1.48% of 14 million California filings. Only Michigan had a lower exits-to-population ratio.
California's departure rate is far less than the national norm, which shows movers between states account for 2.14 percent of all U.S. filers. States that did a poor job at keeping its taxpayers included Utah (losing 2.33 percent of its filers); Arizona (2.72 percent); and Nevada (3.32 percent). These Western states, frequently cited as popular places for ex-Californians, have out-migration challenges, too.
The data also shows us the incomes that move with migration patterns.
To be sure, it's eye-catching to see what departing Californians took with them: a combined taxable income of $16 billion in 2015. When you consider total incomes of Californian filers of $1.22 trillion, though, the outflow is only 1.3 percent of dollars earned – again, the second-best rate among the states (behind Michigan) and better than the national average of 1.8 percent.
Who's leaving the state? IRS data suggest those with less wealth: the average income of movers was $77,000 per filing in 2015 vs. $87,000 statewide. But the tax data also shows California's ability to retain population beats the national average at all six income levels broken out by the IRS — from those with little income to those making $250,000 or more.
Please note that one bit of homebuying data also shows Californians are pretty geographically stable.
When Attom Data Solutions ranked five dozen major U.S. markets for how long recent home sellers had lived in their homes, five of the 12 markets with the greatest tenure were in California. Plus, the average length of ownership had grown by two years since 2012 to above 10 years in some cases.
In 2015, California gained 197,200 new filers with total incomes of $13.9 billion. But that's tiny vs. the state's huge population and economic heft. On a per-capita basis, only four states — Michigan, Ohio, Wisconsin and Illinois — fared worse in bringing in new taxpayers.
So, why have you heard tales of data showing large numbers of Californians leaving the state?
One often quoted metric is what is called the "net migration "– the difference between inbound and outbound.
Yes, population and tax data shows California with a negative net migration – more departures than arrivals. However, the seemingly large raw number of California exits is actually relatively modest when you compare it to the state's scale as the nation's most populous state.
IRS data shows 10,700 more departing Californian filers than arrivals, moving a "net" income of $2 billion out of state. Only three states — New York, Illinois and New Jersey — lost more "net" dollars in 2015. But when you see that net outflow in terms of California's $1.11 trillion in taxable income, the state ranks 27th — middle of the pack – in proportional net income loss.