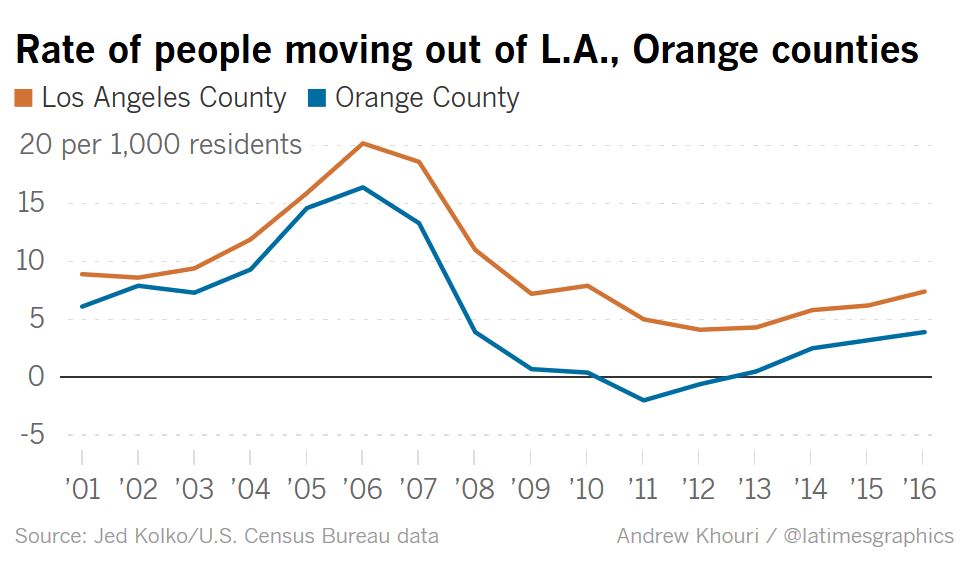 Interesting that San Diego County is mentioned as an area to which  people are moving! Hat tip to JT for sending this in:
http://www.latimes.com/business/la-fi-leaving-socal-20170414-story.html
Excerpts:
Huntington Beach residents Chris Birtwistle and Allison Naitmazi were about to get married and decided it was time to buy a home.
They wanted to stay in the area but couldn't find a house they both liked and could reasonably afford — despite a dual income of around $150,000.
So they decided to go inland — all the way to Arizona, where they recently opened escrow on a $240,000 four-bedroom house with a pool, just outside Phoenix. Their monthly mortgage payment will be about $500 less than what they paid for a two-bedroom apartment in the Orange County beach community.
"The only hesitation was [leaving] the great weather," the 31-year old Birtwistle said. "But we talked about what we can get here and what we can get there for the same price and that was a no brainer."
Moves out of the area remain far below levels seen during last decade's housing bubble, when out-migration was nearly triple what it was in 2016 — and real estate agents urged clients to "drive until you qualify."
But after slowing down in the aftermath of the Great Recession, which devastated the housing market, out-migration is picking up as prices climb steadily higher, according to U.S. Census Bureau data.
To escape high prices, people — often younger and with lower- or middle-class incomes — are looking toward the Inland Empire and nearby states for additional square footage and a lower mortgage payment.
"[Migration] is settling back into longer-term patterns," said Jed Kolko, chief economist with employment website Indeed.com who analyzed the data.
Others were more blunt.
"The impact is to create an auction situation between the haves and the have-nots," Christopher Thornberg, founding partner of Beacon Economics, said of the housing shortage. "And the have-nots have to move away."
Read full article here:
http://www.latimes.com/business/la-fi-leaving-socal-20170414-story.html