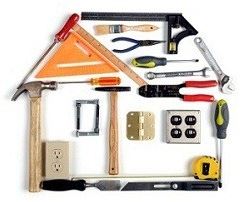 Anyone who has looked at homes lately can attest to the surprising conditions in which people live.  The lack of maintenance transcends all price points too.
But it's nothing money won't fix.
Buyers should surrender early on……and expect to spend at least $25,000 to $50,000 on any house they buy.  It's easier than trying to find the perfect house that doesn't need anything.
But looking at houses then turns into a job of making lists of the repairs required. Is there a way to short-cut that process, and just use one simple gauge to know if the house could be a money pit?
When I enter a house, I still walk straight to the backyard first.  It is there that you will find the items that are hard or impossible to fix; yard too small, road noise, neighbors looking in, over-sized pools, etc.
Once we're past that test, and everyone is getting comfortable with the interior layout, I make my way to the place where you can find the most clues about the seller's pride of ownership.
The Master Bath – a place where the sellers spend time every day.  The most extreme conditions exist too – high use of hot and cold water, steam and mold conditions, multiple plumbing functions, venting, several appliances in use, laundry processing, etc.  There's a lot of action going on in the master bath!
With all the action, is somebody keeping up with repairs?
If any room is going to be well-maintained, it is the master bath.  It's not that big, and the moving parts are simple – a towel rack, a toilet-paper roller, lighting, fan, grout, window, sinks – easy stuff.
Plus, every guy wants to keep his wife happy – so if he is going to fix anything, it will be here.
No need to get into any personal items – just checking the hardware:
 Are the towel racks secure?
 Toilet-paper roller intact?
 Drywall outside the shower or tub wet or damaged?
 Adequate electrical outlets?
 Toilet secured tightly to floor?
 Toilet works properly?
 Sinks drain normally? (two sinks are a must)
 Adequate water pressure at sinks and shower?
 Fan is quiet? Window works well?
 Any sign of biological discoloration?
 Baseboards are dry and tight?
 Mirrors look good?
 Ample lighting?
 Mineral deposits on glass doors?
 Shampoo bottles have a home?
 Solid coat of semi-gloss paint?
 Crisply-applied caulk, especially around the shower faucet?
 Solid and tight grout lines?
 Door that locks easily?
 Is the floor of the sink cabinet dry?
If you are in a hurry or tend to get caught up in the excitement of looking at houses, then just concentrate on what you see in the master bath.
If you check off every item above, then the rest of the house should be in good shape too.  But if the sellers aren't maintaining this room that has complex features but simple fixes – especially when on the market – then they probably haven't done much to keep up the rest of the house either.