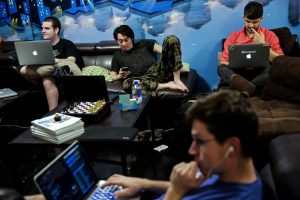 Because millennials are more likely to stay single longer, these communal living arrangements should flourish.
They are probably an extension of the mini-dorms around college campuses.  Next year, our youngest will be splitting $9,800 per month to live with 13 other women in one apartment.  Their landlord inherited a dozen apartment houses, all in Westwood! H/T daytrip:
Zander Dejah, 25, pays $1,900 a month rent to live in a downtown San Francisco house with at least 40 other people, many of whom sleep in bunk beds.
Dejah is a resident of The Negev, a communal living space that styles itself as a home for millennial tech workers to brainstorm ideas, write code and create apps, even if they have to share toilets and bathrooms with dozens of others. (Related photo essay: here)
Houses like The Negev, located in a neighborhood known as "SoMa" or South of Market, have cropped up around San Francisco as an influx of young professionals, many of whom are tech workers, have faced the city's notoriously high rents and apartment shortages. It has three floors and roughly 50 rooms, filled with bunk beds, beer bottles and laptops, according to residents.
Dejah, born and raised in New York, graduated last year with a degree in computer science and math from McGill University. Unemployed, he moved to California six months ago and found his room at The Negev on Craigslist.
"I thought New York was expensive," said Dejah, who quickly landed a job as a virtual reality engineer at consulting firm moBack. "It's basically an extension of college. We sort of live in a frat house."
The home is certainly filled with parties on weekends, but the residents make sure to sit down every Sunday for a communal dinner, akin to a traditional family gathering.
While some say communal housing provides a solution for many first-time workers fresh out of college, such housing also has created its share of controversy. Housing advocates have complained that this new dorm-like style of living has pushed up rents and forced longtime residents to move out.
Alon Gutman, who co-founded a company called The Negev and began leasing the building on Sixth street in 2014, said, "We have never made somebody move out of that building," adding that his tenants pay 30 percent to 50 percent less than others in the neighborhood.
"We are trying to solve the housing crisis and increase density in a positive way."
The Negev company runs nine communal properties, three of which are in San Francisco. The others are in Austin, Texas, and Oakland, California.
The Negev properties, generally in run-down, low-income neighborhoods, are restructured to accommodate a large number of tenants, Gutman explained.
Save
Save