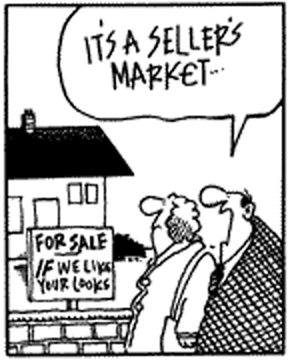 The San Diego Non-Seasonally-Adjusted Case-Shiller Index bottomed in April, 2009 (which just happened to be the same month this blog got favorable exposure on the front page of the L.A.Times, and on ABCNews Nightline).
The local index has increased 58% since!
It has been a steady-strong sellers' market for 7+ years, and logically it would seem we are (over)due for a pause.  However, if you want another reason why the sellers' market will continue, consider that for many agents, these market conditions are all they have ever known.
The State of California issues real estate license numbers sequentially.  License #01860000 was issued in March, 2009, so we know that any SD agent with a license number higher than that has never known a soft market, professionally.  The state issued its 2,000,000th license this year.
The seller's market probably will continue for those who own superior properties in good locations – because so few of them are coming to market, the buyers will have to pay what it takes.
But there are more and more regular offerings just sitting.  When you talk to the listing agents, they proudly point out how they are 'under comps' and 'seller is motivated'.  I even saw one where the buyer had to pay both sides of the commission – pay 5% over list, and the bidding war hasn't started yet!
Can these agents (and sellers) adjust to market conditions?
After being schooled up in one of the strongest bull markets that real estate had ever known, and knowing no other, it is doubtful the newer agents (200,000+ in the state) will do anything more than 'wait it out'.
The seller's market could continue just because for many, it is all they know.
Save