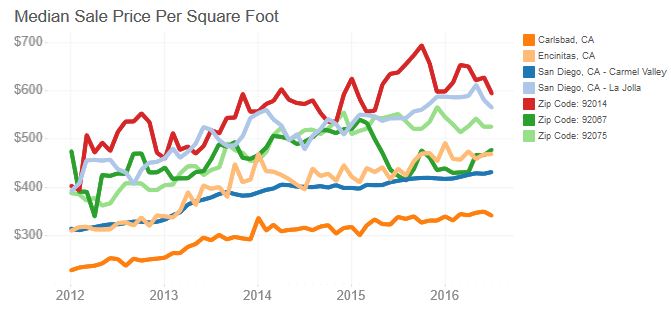 What now?
Summer is over, and the so-called spring selling season is six months away.
Is it worth waiting?
Sellers want to believe that springtime is when all the young families with 2.2 kids will be looking to pay retail-plus.  But that belief ignores the trend – prices been fairly flat around higher-end areas.  Look at the graph above.  The only area that is a good bit higher today than in January is Rancho Santa Fe, which has been on a roller-coaster the last couple of years.
Predictions for next year?  From Zillow: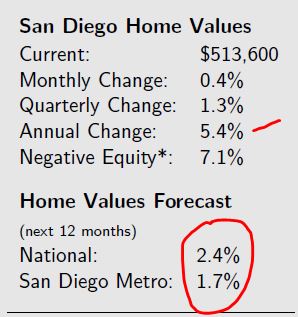 Zillow was more pessimistic about 2016 too, so the +1.7% may end up being conservative.  But prices are already setting all-time records, so it is hard to imagine another big pop next year.
We as an industry aren't used to flat pricing – the drama of violent price swings is much more exciting!  But flat pricing does make it easier, because it eliminates one of the major variables about moving.
If you are going to sell or buy at roughly the same price now or next spring, then which is better?
THE BEST TIME TO BUY OR SELL IS WHEN NOBODY ELSE IS!
If you are buying and come across the right home at the right price, you sure don't want any competition to screw it up for you!  There will be less competition during the next 4-5 months!
If you are selling in a flat market and have other active listings around you, what if one of them needs to sell worse than you do?  They could undercut your spring-selling-season-2.2-kids-retail-plus program, and leave you hanging.
Remember our Glendale realtor with the line out front?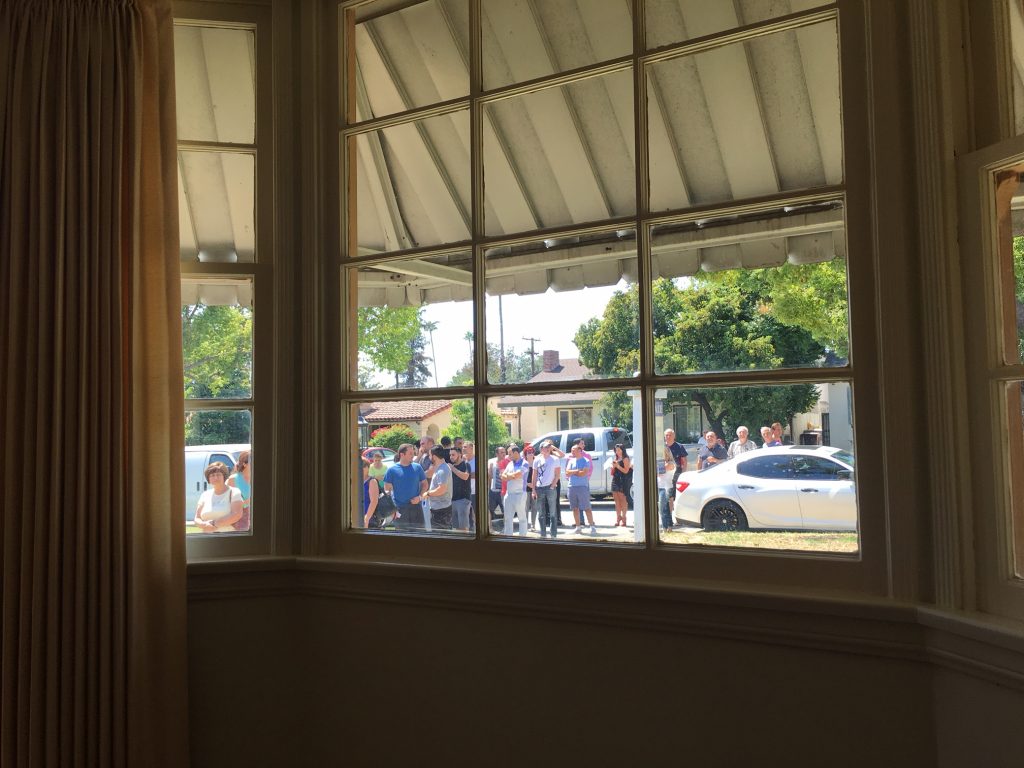 There weren't any good comps nearby all year – a great time to sell when nobody else is!  They ended up with 18 offers (6 were cash) and they had two cash buyers who wanted it so bad that they were willing to pay more than $100,000 over list price!
Thankfully there weren't any good comps nearby to screw that up!