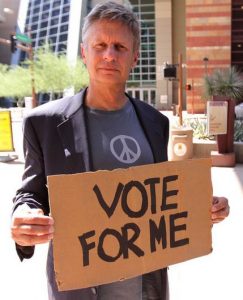 The Libertarian Party has the best chance ever to get more than their usual 1% of the vote in November.  Gary Johnson is looking like the middle-of-the-road candidate too, and here's how he could win:
http://www.denverpost.com/2016/07/21/actually-libertarian-gary-johnson-could-win-the-presidency/
If no candidate wins an absolute majority in the Electoral College, the election is decided by the House of Representatives. Thus, if Johnson were to win, say, Colorado while Trump and Clinton split all other electoral votes 50-50, the House would pick the winner. Given that Trump and Clinton are the most unpopular candidates in recent history, a divided House might compromise by selecting Johnson, a former two-term governor of New Mexico.
If you do not like Trump and Clinton, you needn't accept them. Johnson is a legitimate option, having recently garnered 13 percent in a CNN poll. At 15 percent, he would be in the debates. Then anything is possible.
From the Libertarian Party Platform about housing:
2.1 – As respect for property rights is fundamental to maintaining a free and prosperous society, it follows that the freedom to contract to obtain, retain, profit from, manage, or dispose of one's property must also be upheld. Libertarians would free property owners from government restrictions on their rights to control and enjoy their property, as long as their choices do not harm or infringe on the rights of others. Eminent domain, civil asset forfeiture, governmental limits on profits, governmental production mandates, and governmental controls on prices of goods and services (including wages, rents, and interest) are abridgements of such fundamental rights. For voluntary dealings among private entities, parties should be free to choose with whom they trade and set whatever trade terms are mutually agreeable.
While a Libertarian president might mean bad news for Fannie/Freddie and other government-supported entities, there is one thing Johnson could do that would set the real estate market on fire.
He wants to abolish the IRS, and replace it with a federal consumption tax.  Because it would be the House of Representatives that gets Johnson into office, nobody would give him much chance of a second term – so he would have to work fast!
If it took him a year to abolish the IRS, it would give those long-time owners of rental properties the next three years to liquidate the portfolio without paying the federal 20% capital-gains tax – the main reason those owners don't sell now.
A flood of supply – or at least more than a trickle – would help to calibrate the market, stimulate the economy, and provide opportunities for buyers to purchase well-located beach properties!
It would probably get screwed up by politicians who insist on a compromise in the consumption tax that would then penalize those sellers, but given the alternatives, it's worth considering!