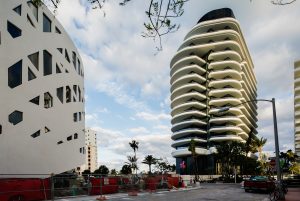 Here is a hyper-example of how a boom unravels – first there is an extended stagnation because sellers don't believe it, and besides, they're not going to give it away. But their unwillingness to sell for what the market will bear only emboldens the buyers to wait longer.
Thankfully, we only have 6,507 houses and condos for sale in a county of more than 3.2 million people!
http://www.bloomberg.com/news/articles/2016-05-27/miami-s-condo-frenzy-ends-with-inventory-piling-up-in-new-towers
Miami's crop of new condo towers, built with big deposits from Latin American buyers and lots of marketing glitz, are opening with many owners heading for the exits.
A third of the units in some newly built high-rises are back on the market, though most are listed for more than their owners paid in the pre-construction phase. At the current sales pace, it would take 29 months to sell the 3,397 condominiums available in the downtown area, according to South Florida development tracker CraneSpotters.com.
With the U.S. dollar strong, South American investors who piled into the downtown Miami market after the real estate crash are now trying to unload their recently built condos, adding inventory to an area where 8,000 units are under construction and nine towers were completed since the end of 2013. Some are offering homes at a loss as demand cools. Condo purchases from January through April slid 25 percent from a year earlier, while the average price fell 6 percent on a per-square-foot basis, CraneSpotters data show.
"The problem is that investors are no longer buying, and now they're going to be looking to sell," said Jack McCabe, a housing consultant based in Deerfield Beach, Florida. "And what buyers are going to replace those other than vulture buyers looking for deals?"