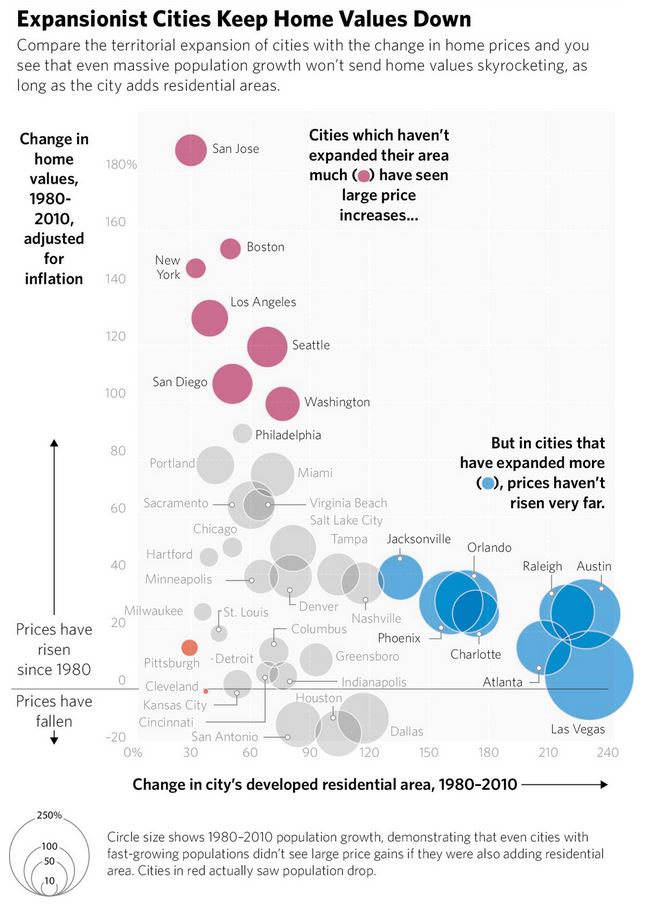 Millienials – or anyone feeling priced out – really should support permissive housing policy to help keep a throttle on prices.  Here's evidence showing that faster-growing cities have more-modest price increases, although this chart is older (prices over last 5 years have been straight up). Thanks Ollie!
http://blogs.wsj.com/economics/2016/04/18/why-the-great-divide-is-growing-between-affordable-and-expensive-u-s-cities/
Across the country, a divide is emerging between cities that are growing outward and remaining affordable and ones that are hemmed in by geography and onerous zoning codes and are becoming  more and more expensive.
As a whole, U.S. cities are expanding as rapidly as they have throughout the last half-century. From the 1950s until the 2000s they have added about 10,000 square miles per decade, or an area roughly the size of Massachusetts, according to research by Issi Romem, chief economist at real-estate site BuildZoom, to be released Monday. But beneath the surface a divide is deepening.
On the one side are cities such as San Francisco, Boston, New York and Miami that have slowed their pace of expansion dramatically since the 1970s, in part as they have added layer upon layer of building regulations. On the other side are cities concentrated in the southeast and Texas, which have grown outward and seen much slower price growth.
The developed residential area in Atlanta, for example, grew by 208% from 1980 to 2010 and real home values grew by 14%. In contrast, in the San Francisco-San Jose area, developed residential land grew by just 30%, while homes values grew by 188%.
The developed residential area in Raleigh, N.C., grew by 219% in the same period, while home values grew by 27%. In Seattle, the developed area grew by 69%, while home values grew by 119%.
Mr. Romem draws the distinction succinctly: expansive cities versus expensive cities.
"If you don't let the city grow, you're going to get prices going upward…and see the middle class being pushed out," Mr. Romem said.
Read full article here:
http://blogs.wsj.com/economics/2016/04/18/why-the-great-divide-is-growing-between-affordable-and-expensive-u-s-cities/