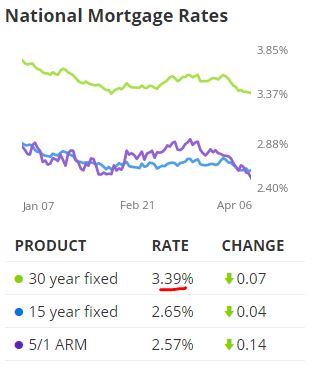 Mortgage rates sure are cooperating with the peak selling season!  Let's hope the economy stays alive, and the political circus doesn't get any worse.
From MND who quotes rates with zero-points:
Part of the recent move lower in rates is due to anticipation of just such a "sell stocks, buy bonds" trend–just like the one seen in the first 6 weeks of 2016.  If stocks actually do move significantly lower, it's highly likely that rates would follow.  Even now, rates are already very close to the lowest levels in 3 years.  In fact, since mid-May 2013, we've only seen rates any lower than today 2-3 times, depending on the lender.  As for particulars, the most aggressive lenders are back to quoting 3.5% on top tier conventional 30yr fixed scenarios, with the bulk being at 3.625%.
Let's also note what appears to be the new trend of seller euphoria that kicks off the spring selling season now: