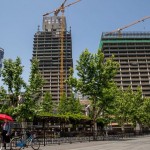 What do you know? A government that takes drastic action to prevent a housing bubble! Maybe this will get the Chinese to focus more on buying here?
http://fortune.com/2016/03/25/shanghai-fend-off-housing-bubble/
Shanghai's local government is working to fend off a housing bubble in a city where prices jumped almost 21% last month from a year before.
Officials on Friday announced measures to cool down the market that among the hottest in the country, second only to Shenzhen, the southern tech-focused city where prices rose a bubbly 57% year-over-year in February.
The new rules require buyers of second homes to pay 50% to 70% of the price of the home as down payment—the old requirement was merely 40%—to get a mortgage. Non-residents will have a harder time buying Shanghai property: those who don't have local residence permits will have to wait five years after moving to the city before they can buy, increased from two years previously.
Shanghai is but one of the big Chinese cities to experience a housing reawakening. The sharp price increases in China's biggest and wealthiest cities are a partial consequence of China's stock market bust last summer. Middle and upper-class Chinese are looking for a place to invest, and without buoyant equities, it's back to the traditional choice of real estate.
China's smaller cities, meanwhile, are saddled with excess inventory and prices there fell by the low single-digit percentages year-over-year in February.
"We expect the government to announce more supportive policies targeted at lower-tier cities, and take actions to control prices in top-tier cities," Goldman Sachs analysts in Hong Kong wrote last week.
The two-speed real estate market is paralleling China's broader economy, where there's a contrast between fast growing consumer-oriented businesses and struggling state-owned companies.
In real estate, now, the fast speed shouldn't mean new apartments selling out in a single morning, as was happening. At least the government hopes not.