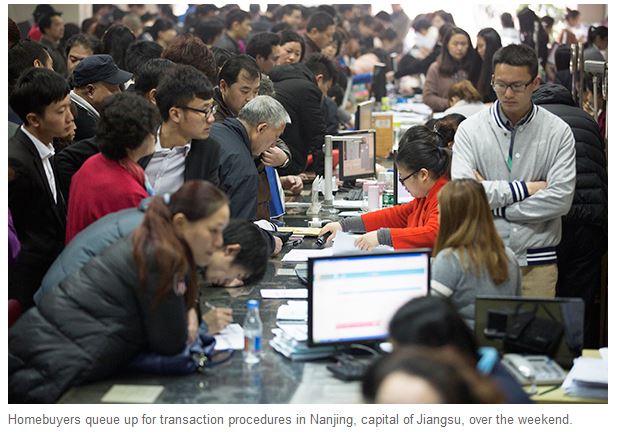 The government lowered the down-payment requirements and cut transaction taxes in half – and the market took off.  Look at the photo above!  Can you imagine a marketplace where bidders are shouting over the counter? I can!

Let's auction!
P.S. My blog post #5 today. Look out!
http://www.chinadaily.com.cn/business/2016-03/22/content_24006378.htm
An excerpt:
Resale prices have also surged in tandem with the latest housing boom in Beijing, Shanghai and Shenzhen that saw home prices rise 20 to 30 percent since the Chinese Lunar New Year (Feb 8th). In my neighborhood, three-bedroom apartments now cost 6-8 million yuan, or about eight to 10 times more than what they cost when the estate was launched eight years ago.
My cell phone has been ringing now and then with calls from agents who urge me to sell my duplex apartment and upgrade into a luxury home. But I've seen too much to budge even with the regulators' warning to ease the pressure, like acting hard against easy home loans for low-down-payment mortgages.
Probably anyone familiar with the housing market would doubt if developers and agents who assist buyers with the loans, were the main culprit for the unexpected wave of property buying.
For some young buyers, it's common for their parents to dish out the down payment, assuming they will repay in the future. But many more would offer to pay in installments over several months during which they could sell their current houses and arrange for loans?such as loans from developers and agents?in case of a shortfall. The danger of a looming US-style subprime crisis might have been largely exaggerated.
Instead, a spate of property easing measures, easy credit, concerns about shortages of housing supply and recent stock routs have worked together to unleash some residents' pent-up demand for nicer and bigger homes in major cities.
For example, to encourage people to buy houses, interest rates have been lowered and transaction tax on bigger flats with a size of at least 140 square meters, has been cut from 3 percent to 1.5 percent, which means steep savings for buyers because such deals usually involve several millions of yuan.
The market's return back to life has also reinforced the popular belief that housing prices will only go up. Over the years, the government has tried to curb price rises by imposing a series of conditions on purchase. But each time, after a short, slight dip, prices have rebounded with a vengeance, leaving those wishing for big falls cursing their gullibility and slow moves.
After the stock turmoil last year, property proves again to be the best investment vehicle that the wealthy could park their funds in and middle-class urbanites build their nesting eggs with. While many homebuyers laugh their way to the bank, most stock investors have experienced anger and regret after their money evaporated in market meltdowns.