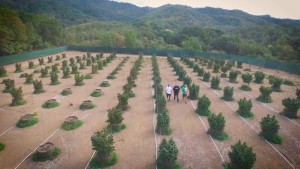 We figured the next real estate bubble would look a little different…..
http://blog.sfgate.com/smellthetruth/2016/03/16/marijuana-real-estate-bubble-inflates-in-california/
Excerpts:
A marijuana real estate bubble is inflating in parts of California thanks to new state regulations clarifying the legality of the $1.4 billion medical pot economy in the Golden State.
Newsweek reported March 5 that the pot industry is outbidding the Predator drone industry for commercial real estate in the tiny desert town of Adelanto.  City leaders hope to corner the Southern California medical pot market and are speeding to permit mega-farms that will be grandfathered in among the limited number of state licenses for mega-farms.
Consequently, property values in zoned areas have shot up from $1.5 million to $4 million. Desert wasteland once going for 50 to 90 cents per square foot is now going for $12 to $14 — a yearly increase of 14,000 percent, reports state.
Over in Oakland, realtors report bubble pricing is already baked into real estate values inside the city's waterfront industrial zone, the site of the city's first licensed pot farms this year or next.
In San Francisco, medical cannabis permits are tied to the building, not the manager — leading to a string of multi-million dollar buyouts of underperforming clubs by investors. One Financial District landlord is charging a reported $1 million in application fees to lease one of 15 small, licensed medical cannabis delivery co-working spaces for up to $15,000 per month each.
The only thing that could slow the bubbles is increased competition from other California towns, which is likely to happen very slowly.