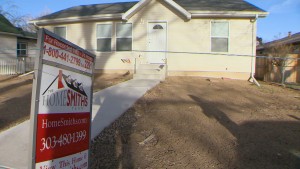 Another city that is experiencing low inventory. At the end of the video, the reporter said in February there were 4,000 active listings, and in 2006 there were 25,000:
http://www.9news.com/news/local/low-inventory-leads-to-creative-home-buying-tactics/78582486
An excerpt:
"We've certainly received handwritten letters that have been left on our doorstep," said Troggio. "In addition to that, we often get legal-typed letters that say, you know, 'I'm a real estate agent and I have a client who's interested in purchasing your property."
Real estate agent, Anthony Rael is familiar with these tactics.
"It shows you the level that some buyers will go to, to try to let it be known that look, I'd love to live in this neighborhood," said Rael, who serves as chairman of the Market Trends Committee for the Denver Metro Association of Realtors.
The latest DMAR Market Trends Report showed the metro area closed out February with a historically low 3,963 active listings. That's a six percent decrease in inventory over January and a 2.8 percent decrease year over year.
"Usually around this time of year, as we start to enter the spring market, we start to see more and more inventory online. So far, it hasn't materialized," Rael explained. "We're hopeful, for the buyers', sake we get some more inventory coming online really soon here."