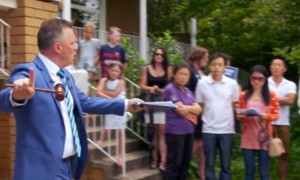 Our cruise around the world looking for similar real estate markets has to include a stop Down Under, where the auction format to sell homes and the lack of capital-gains tax on seller proceeds from the sale of their primary residence has to add extra juice.  Add in some mortgage funny business….and well, these guys think there's a bubble:
An excerpt:
Bronte Capital's chief investment officer John Hempton and economist Jonathan Tepper (founder of research house Variant Perception) toured suburbs across north-west and south-west Sydney to view housing developments and met with 20 mortgage brokers three weeks ago.
They discovered that mortgage brokers were advising them to lie on loan application documents about the deposit for a house and about income, the Australian Financial Review (AFR) reported.
Mr Tepper has also used charts to support his housing bubble theory.
When the pair asked banks to call their employer, 'both reputable and disreputable brokers said banks rarely verified payslips,' Mr Tepper wrote in a report.
They also encountered developers lying about units and houses being sold in the west, the 'epicentre' of the housing bubble.
To Mr Tepper's surprise, some of Sydney's poorest suburbs, such as Blacktown, Rooty Hill and Mount Druitt in Sydney's west had properties selling from $500,000 to $700,000 – prices at least eight times the income of local workers.
'The further west I went, the more irrational it felt. Lots and lots of supply and prices that bore no resemblance to construction cost and income of people around there,' Mr Hempton told AFR.
There were more advertisements for deposit guarantees, where rather than putting a deposit down on a house you can take out an insurance contract that will pay the deposit if you default.
Another shocking revelation was that the verification of documents was sometimes done by Indian call centres, according to Mr Hempton.
On loan applications low-income earners were often offered discounts on the advertised mortgage rate of up to a one percentage point, increasing the vulnerability of the banks if there were a correction.
Mr Hempton claims they were 'coached on how to get things through banks' as opposed to banks having high quality underwritings.
In Mr Tepper's report, he warns of sharp fall in Australian bank stocks and predicts falls in the Australian housing market of up to 50 per cent in Sydney and Melbourne and of about 80 per cent in mining towns.