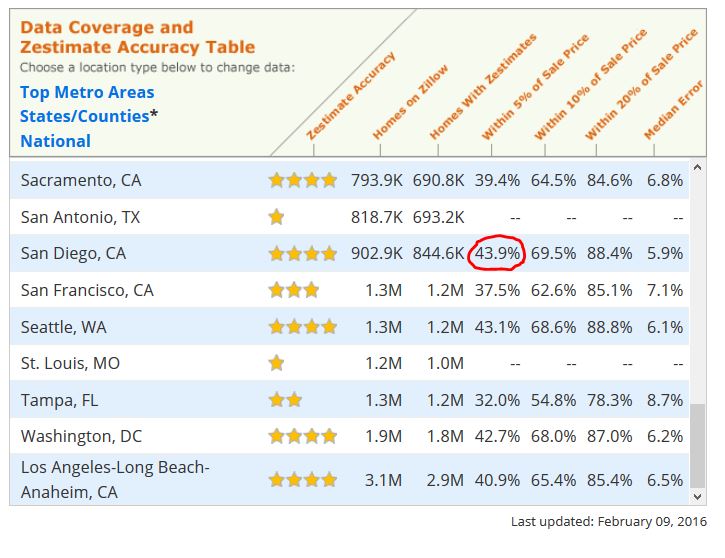 A reader emailed that his zestimate had increased 32% within a year – and he lives in Escondido!  He wondered why!
I did ask, but the Z team hasn't been great about answering prickly questions like this.  They promised to 'look into it, and call back'.  But no response.
We wondered if Z has been adding the nearby active listings to the algorithms?
Or if wild statistical swings are just a result of fewer sales/comps to use?
We already know that the zestimates can be pretty accurate in newer tract-house neighborhoods.  The houses are similar, there hasn't been much time for do-it-yourselfers to screw them up, and heck – newer tract houses are easier for buyers to evaluate.  The conformity leads to steady pricing.
But in the older areas where every house is different, look out!
What can you do?
It was reported last February that you can manually improve your zestimate, and it does update immediately.  But the needle doesn't move much, and you need to add square footage to get a bigger pop.
Here are instructions on how to tinker with your own zestimate:
http://www.zillow.com/blog/pro/make-instant-updates-to-zestimate-114581/
Zillow has also expanded the options once you have updated the zestimate on your own home, and compare to ten comps around you.  The free tool is designed for people who are preparing to sell their homes — giving them a custom, private estimate of their home's value:
www.geekwire.com/2015/beyond-the-zestimate-zillow-launches-price-this-home-option-in-feature-war-with-redfin/
Zillow also gives this answer in their FAQs:
It's important to remember that Zestimates track the market, not drive it. People ultimately have more fundamental reasons that drive what they choose to buy or not buy. Our data shows that half of all sales are generally above the Zestimate. To provide more data on your Zestimate, you can post your estimated value and comments in the Owners Estimate section. The purpose of the Zestimate is provide data in a user-friendly format to promote transparent real estate markets and allow people to make informed decisions.
The median error is still 5.9% in San Diego, and none of their newer gadgets aren't going to change that much.  Are buyers influenced by high or low zestimates?  I think the low zestimates make buyers pause, and the house has to really wow them to compensate.