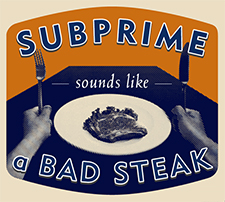 The old First-Franklin way of qualifying – and a better gauge of actual income and expenses. From HW:
http://www.housingwire.com/articles/36188-is-subprime-lending-ready-for-a-comeback?
An excerpt:
In fact, CSC does not use the term subprime. According to Will Fisher, SVP of sales and marketing, at CSC "Subprime is offensive." CSC has coined a more apt descriptive word for of this part of the mortgage world, "non-prime."
"People have been hesitant to make this kind of loan since 2008 and even wondered how we could even fund them," said Fisher. "Even now people ask how we are making these loans. The truth is, subprime is not a four-letter word.  And non-prime is an even better description of what is occurring since 2011-12 in this loan type."
CSC created a loan program four years ago that allows self-employed borrowers to document their income using bank statements instead of tax returns like 1040s or 1099s. The company requires two years of bank statements to validate cash flow and thus extrapolate income. This gives the company critical insight into a borrower's ability-to-repay (ATR).
"We believe that 24 months of continuous bank statements are a very reliable look into what a person actually lives on per month when compared to tax returns or even a W-2s," Fisher said. "Because these borrowers are self-employed, they want the benefits that come with the legal ability to write off expenses. That can make the use of tax returns as conventionally underwritten a poor barometer of ability to repay, but we're able to document income in a different way. And we stay in the spirit of ATR and QM loans by requiring a two-year history."
CSC offers up to 90% LTV for self-employed borrowers with a 700 credit score and up to 80% LTV for a credit score of 600 or higher (the typical threshold for subprime is 620). This program has huge potential for growth since many of the 14.6 million people who are self-employed may not qualify for a traditional QM loan, even with a high credit score and adequate income.
http://www.housingwire.com/articles/36188-is-subprime-lending-ready-for-a-comeback?