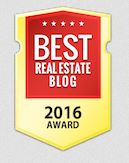 Bubbleinfo.com was named one of the Top 87 real estate blogs in the country (who knew there were 87?).  For those folks looking for real estate data outside of San Diego County, here is the complete list of bloggers scattered from coast to coast:
http://www.coastalgroupoc.com/blog/best-realtor-blog-awards-2016-winners.html
On his blog he is known as "Jim the Realtor" and Jim covers the San Diego real estate market. I love to follow the financial markets and Jim puts a lot of that into his blog. You can find everything from economics to local activities.  If you love numbers, graphs and the occasional video this is a good spot for you.
Thank You David Feldberg!