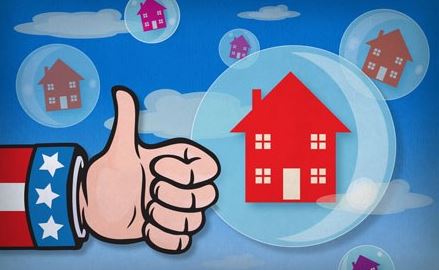 As a new year begins, there has to be people wondering how much longer the market can stay buoyant.  Even with rates staying low, home buying is out of reach for many, if not most San Diego residents, and wages don't seem to be going up much.
Is the bubble going to pop again?
This guy has been our perpetual doomer, and is one of the only four 'experts' out of 108 who said that prices could go down in the next five years. He has summarized all the reasons of possible doom here:
http://mhanson.com/archives/1968
The thing he ignores is that the government is totally supportive of housing.  They bailed us out last time, and it left an indelible mark.
The turning point for The Big Bailout was in 2011 when Bernanke literally told the banking industry to 'not do anything to harm the economy', which was code for 'Stop Foreclosing':
https://www.bubbleinfo.com/2014/03/03/bernanke-stopped-the-flood/
Since then, the number of  foreclosures have dropped like a rock, and after Kamala passed the California Homeowners' Bill of Rights, lenders are required to coddle defaulting homeowners for as long as possible.
The result is a very soft landing for any borrower who doesn't feel like making their payments.  The banks can stretch out any necessary foreclosure activity for months or years, and spread them around evenly so they don't 'harm the economy'.
If you are a potential home buyer who is concerned about future foreclosures causing home prices to drop, I hope that relieves any fears.  Buy a house you can comfortably afford, and stay forever.
For those who want to check for foreclosures, see below: