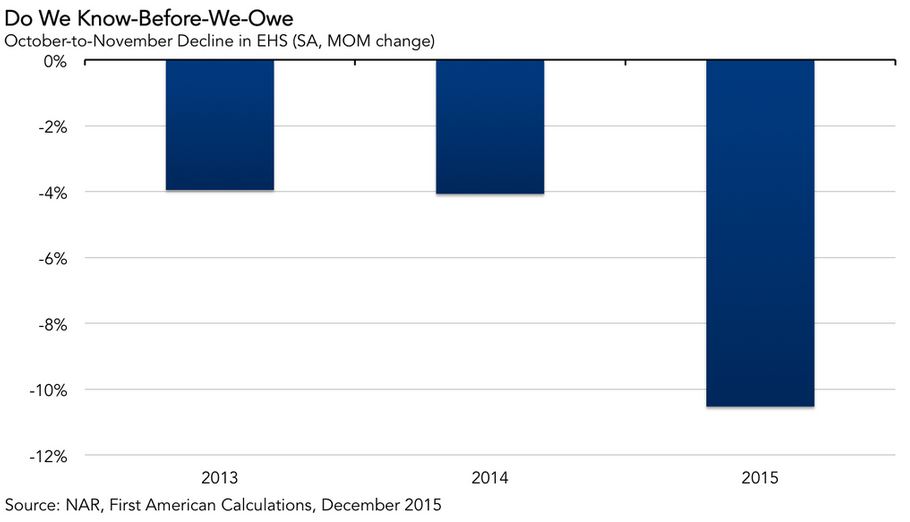 The talking heads are wondering if the 10.5% month-over-month drop in existing home sales is related to the new TRID mortgage regulations.  Those with a national voice are usually quick to blame everything but prices for any glitch in the statistics.  The M-o-M decline is normal (see above) due to the holiday season, and because there are two fewer business days in November.
It would serve the real estate consumer well if there was more focus on how prices affect sales – and that price will fix everything!  Let's hand it to Yunnie for including that 'the steep rise in prices' could be the cause too!
NAR economist Lawrence Yun said most of November's decline was likely due to regulations that came into effect in October aimed at simplifying paperwork for home purchasing. Yun said it appeared lenders and closing companies were being cautious about using the new mandated paperwork.
Also potentially weighing on home sales, the median price for a U.S. existing home rose to $220,300 in November, up 6.3 percent from the same month in 2014.  Yun said the steep rise in prices and shrinking inventories could also be constraining home purchases.
How did we do around North San Diego County's coastal region?
Typically we have a drop in sales from October to November, but this year we fared well, compared to the last two years:
| | | | |
| --- | --- | --- | --- |
| Year | October Sales | November Sales | Diff |
| 2013 | 266 | 187 | -30% |
| 2014 | 244 | 172 | -30% |
| 2015 | 215 | 187 | -13% |
December is usually a good month too, and we've already closed 156 sales – last year's count was 250, and the year before we had 211 December sales.
The market will be great, as long as sellers adjust their sails to the wind.