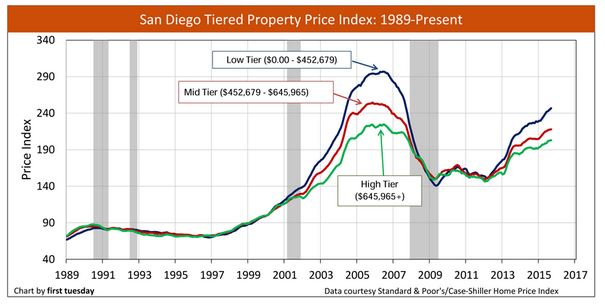 The impact on mortgage rates from yesterday's Fed move was priced in already, and it's doubtful we will see any short-term change in our local real estate market conditions.
But the Fed also indicated that they intend to 'gradually' raise their target range for the Fed-funds rate.  At what point will buyers start to react?  How will they react?
The general statistics for San Diego have been greatly enhanced by the lower-end being red hot.  Look at the difference between the blue and green lines in the pricing chart above – the 2015 pricing velocity in the Low Tier has been much greater than with the High Tier, and it's the lower end that will be more affected by rising rates.
We saw how mortgage rates in the 3s this year helped to turbo-charge the lower end, giving us the illusion that the overall market benefited – see below:

The price of low-tier housing in San Diego County skyrocketed after the latter half of 2012, peaking in Q3 2014 and leveling off after. 2015 has experienced another price increase. This is likely due to the boost given by decreased mortgage rates throughout 2015.
Lower mortgage rates free up more of a buyer's monthly mortgage payment to put towards a bigger principal. Thus, San Diego's high home prices continue to find fuel — not from speculators as in 2012-2014 — but from increased buyer purchasing power.
Expect home sales volume to fall off after mortgage rates begin to rise in the second half of 2016. Prices will descend 9-12 months later, by the second half of 2017.
I think we will see declining sales next year as sellers try to push higher, and buyers resist.  Lower-end buyers will be stymied by higher rates, and buyers on the higher end will be overwhelmed by the bulging inventory – there were 85 houses sold over $1,500,000 last month, and there are 870 for sale in San Diego County!
Prices?  It will take a long stretch of stagnant before all sellers believe they need to lighten up.
If we saw price declines in the general stats by the end of next year or 2017, to what point will they be coming back?  To 2015 prices?  To 2014 prices? Neither would change the overall market much – houses will still be expensive.