Hat tip to the folks who sent in a link to the new home-value estimator. I'm presenting what I've seen; please come to your own conclusions.
Here is the sexy explanation on their website, taking a direct shot at the other real estate portals:
https://www.redfin.com/redfin-estimate
The Redfin Estimate has the lowest published error rate of any valuation estimate in the U.S., with only a 1.96 percent median error rate for homes that are for sale, and 6.25 percent for off-market homes. This means that when a home that is currently on the market sells, the Redfin Estimate will be within 1.96 percent of the sales price half of the time. For off-market homes, the Redfin Estimate will be within 6.25 percent of the eventual sales price half the time. The Redfin Estimate is more accurate for homes that are for sale because there is more data available about those homes.
As a real estate brokerage, Redfin has 100% complete, direct access to Multiple Listing Services (MLSs), the databases that real estate agents use to list properties. This gives us information about homes that non-brokerage websites don't have, like whether the home has a water view or is located on a busy street. The Redfin Estimate algorithm considers more than 500 data points about the market, the neighborhood, and the home itself. When all of this data meets the massive computing power of today's best cloud technology, you get the Redfin Estimate.
(bold added by JtR)
More than 500 data points?
Massive computing power?
Today's best cloud technology?
Those sound great from a marketing perspective.  They want you believe that they have developed a proprietary tool that is better than all others – especially better than anything from those dastardly folks at Zillow.
But it sure looks like their estimates are just closely tied to the list and sold prices, not some superior algorithm. 
Let's consider some evidence.
Prior to it hitting the open market, no one would have estimated the value of my listing on Chaco above $620,000.  The average cost-per-sf of the solds over the last six months is a lofty $400/sf multiplied by 1,477 sf = $590,800.  There was a larger one-story house that had just closed around the corner for $605,000, and the current CMA shows that there hasn't been any evidence before or since the sale that would indicate a value much higher:
Click here to link to Chaco CMA
Yet once the listing hit the market, the Redfin estimate is $638,030.  The only way it could be that high was if the estimate was tied to the list price, and they add or subtract their 1% to 2% to make it look legit: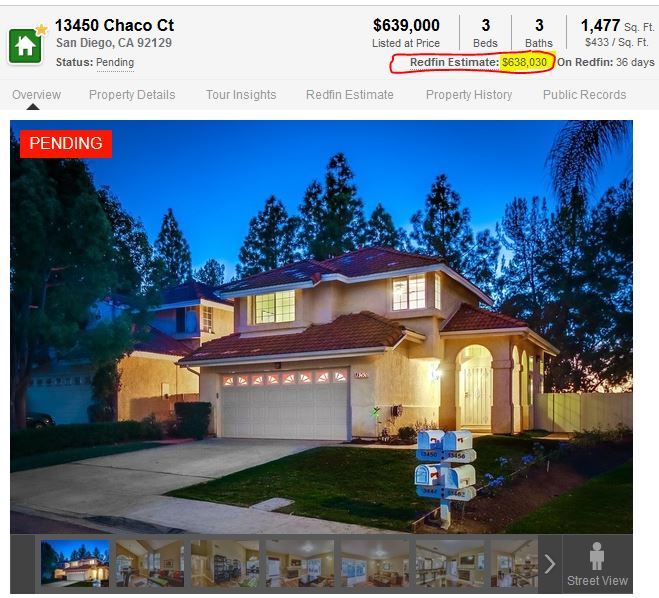 The snip above was clipped the day before escrow closed.  Two days later, their estimate rose four percent to 1.8% ABOVE THE ACTUAL SALES PRICE.
But looking at the CMA, there wasn't any other evidence to support a change in value over the three-day period. It appears that they just added a fairly random 1.8% to the sales price, which kept them within their pledge that half of the sales will close within 1.96% of their estimate: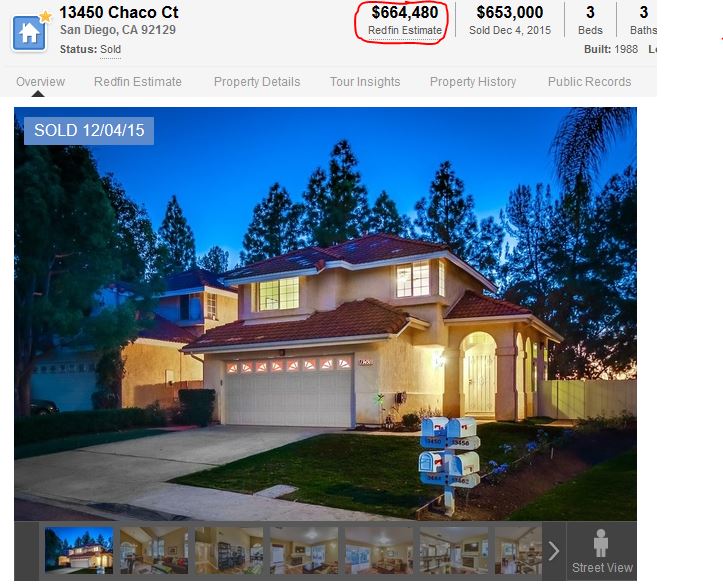 Here's another example.
The day the Rios property listed on the MLS, I first snipped the Redfin old ad: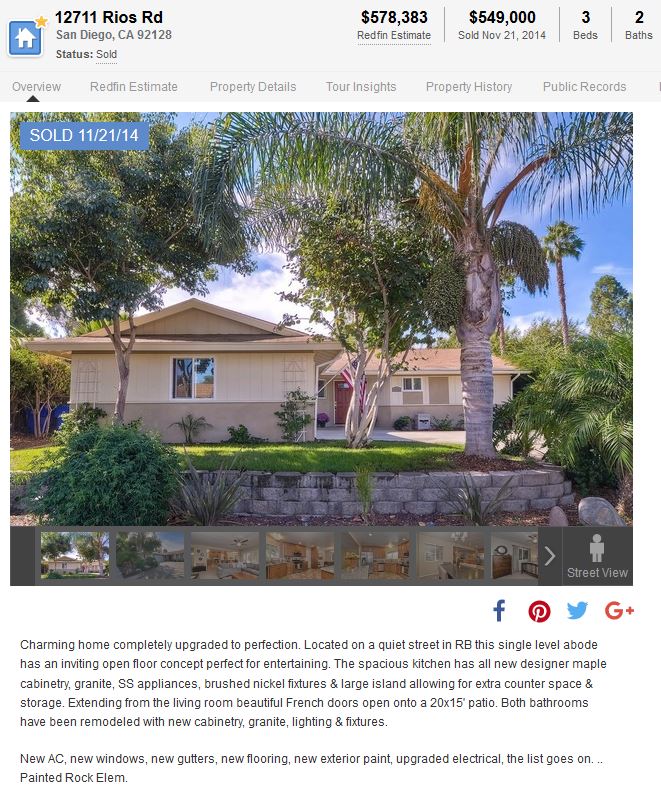 After the new listing was inputted onto the MLS and populated to Redfin, their estimate has magically risen $15,463 in just three hours, to $593,846 – and conveniently within their range of +/- 1.96%: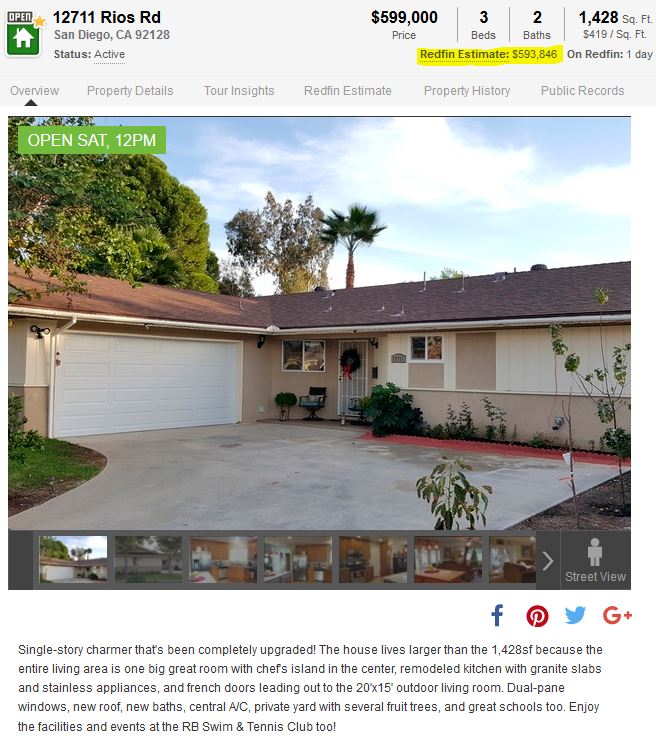 If all they are doing is adding or subtracting a couple of percentage points from the list and sales prices, then fine – they should state that.
But they give the impression that it's their new whiz-bang technology that is generating their estimates, and claiming it to be the new and better-than-all-the-rest value estimator.
It also makes you wonder about their end game – will they also use their estimator to hype Redfin agents, and dog the other non-Redfin agents?
This buyer below was represented by a Redfin agent, and now the Redfin estimate of value has increased a whopping 15% in two months: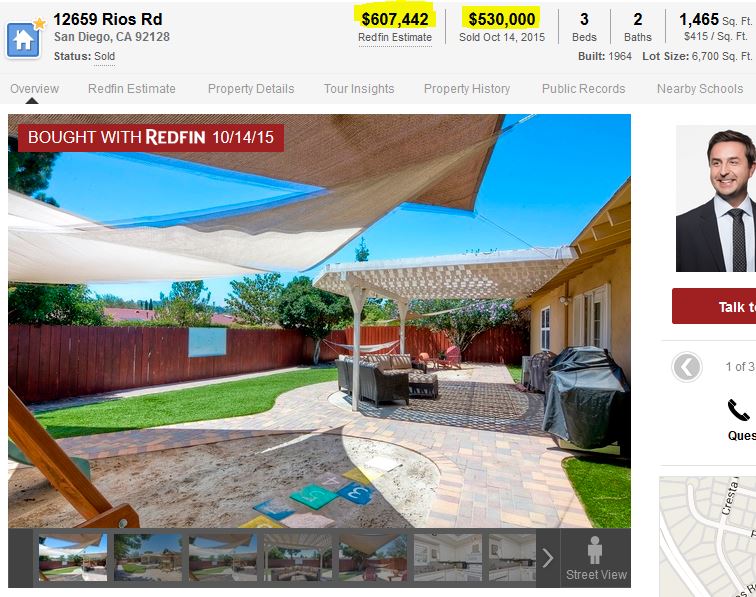 They state that their estimate is based on six solds over the last year, and they list the comps.  Considering the evidence they provided, do you come up with a $607,442 value?
https://www.redfin.com/CA/San-Diego/12659-Rios-Rd-92128/home/4242277
Redfin will probably be able to shrug off any general criticism of their estimates by just calling it a rounding error. If they are deliberately pegging their estimates to within a couple of percentage points of the actual list and sold prices in an effort to play nice with their fellow realtors, it would be understandable – and playing nice has been their track record.
If they also want to add a little juice to their own agent's history to make them look better, I guess it wouldn't be a surprise – heck, every realtor fluffs their sales record.
But this is where they are going to get themselves in hot water.
When a zestimate is below the list price, the Zillow folks are quick to say that it is just a starting point, and to consult with a realtor to pinpoint the exact value.  The realtor community will live with that approach.
But what happens when a Redfin estimate is well under the list price?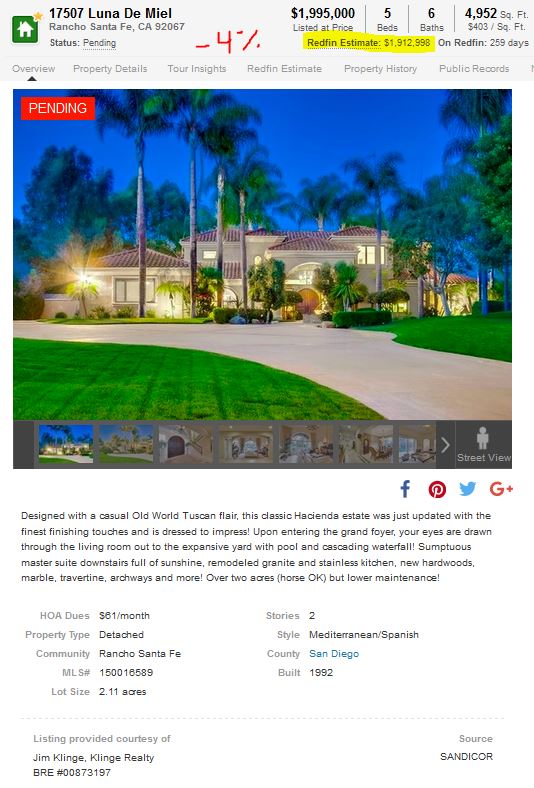 Don't the agents who have listings that aren't selling have a right to be upset with their fellow realtors at Redfin if they have a low estimate?  Yes, indeed.
A Redfin estimate – generated by more than 500 data points, massive computing power, and today's best cloud technology – that comes in low and then is published on one of the most popular real estate websites will publicly undermine the chances of selling the house.
Listing agents won't tolerate other realtors publishing low estimates online to a wide audience of buyers – especially when the estimates (and motives) are suspect from the beginning.