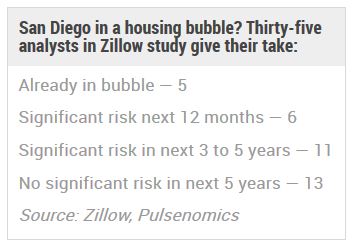 After the recent article by Zillow on whether the San Diego market is in a bubble, the UT conducted their own investigation. Thankfully, they talked to our old friend Rich Toscano:
An excerpt:
The San Diego man who predicted the housing crash on his blog Professor Piggington's Econo-Almanac, Rich Toscano, agrees that San Diego is not in a housing bubble, although he was not part of the Zillow survey.
Toscano, a partner at Pacific Capital Associates, said overvaluation can best be tracked by looking at rent, income and home prices together. In mid-2005, home prices shot up 75 percent over historic median levels. Today, they are 19 percent over those historic median levels.
"Valuations (now) are like prior cyclical peaks but nothing like the bubble," he said. "A lot of people say prices are like the bubble so that means it's just like the bubble. So they kind of ignore we've had 10 years of rents and incomes going up."
He said the mood back in 2005 was "you're a complete idiot if you don't buy" because housing can only ever go up. An example of the psychology changing is that people are asking all of the time if housing is in a bubble.
"What you really care about is if you are way overpaying," Toscano said. "Sure, housing is expensive but it is nothing like it was during the bubble."
The Zillow survey, conducted by Massachusetts-based Pulsenomics, listed the St. Louis market as the least likely to face a bubble with 34 out of 36 analysts saying there was no significant risk in the next five years.
Pulsenomics interviews more than 100 economists, investment strategists and housing market analysts in quarterly surveys. Not all respondents answer every question so the number of analysts responding to the bubble question varies.
Read full article here:
http://www.sandiegouniontribune.com/news/2015/dec/10/housing-bubble-zillow-study/