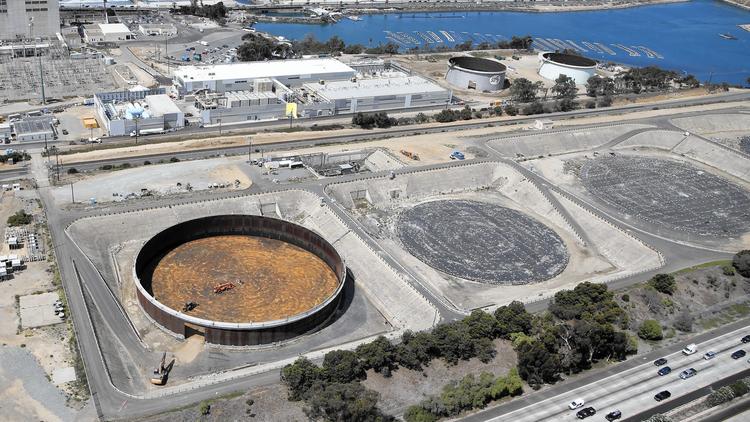 Hat tip to daytrip for sending in this article from the latimes.com – an excerpt:
The $1-billion desalination plant coming online next month in Carlsbad will fit right in with years of careful planning and investment in water supply in San Diego County.
It will also worsen a peculiar San Diego problem amid a multiyear drought: an oversupply of water.
Unlike other parts of California, San Diego has 99% of the water needed for normal usage. But statewide conservation mandates have applied equally to areas that have plenty of water and those that don't, so the result here has been water piling up unused while local water agencies raise rates to make up for lost sales.
Carlsbad Mayor Matt Hall, a San Diego County Water Authority board member, said the situation is hard to explain to his constituents.
"It's real hard to tell them, 'You have to let your grass die,' and in the same breath you have to tell them, 'We have more water than we can use,'" he said.
Enter the desalination plant. The private venture kicked off a 30-day test period Nov. 9 and is expected to start producing water next month, enough to meet between 7% and 10% of the county's demand. Water officials agreed in 2012 to buy the water whether they need it or not, to make the plant financially feasible.
The new supply is just one more reason local water officials are advocating for the state to ease conservation mandates for areas where supplies are ample, which would lessen the oversupply.
The desalinated water will be more expensive than the county's current supplies, triggering $5 a month in increased water rates for most households. As the more expensive water arrives, it will have implications for the water authority, which recently has had to cut back on purchases of imported water it's entitled to on a temporary basis.
Next year, the desalinated ocean water will cost San Diego water agencies at least $113.6 million — more than double the $45.2 million they would pay for the same amount of imported water, which remains available despite a statewide drought.
Even before that water comes online, San Diego has been running up against storage limits.
Read full article here:
http://www.latimes.com/local/lanow/la-me-drought-watch-20151125-story.html