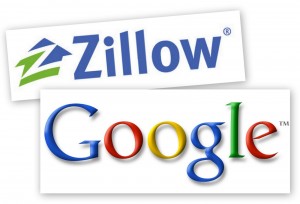 Google is teaming up with Zillow to provide a mortgage platform for consumer shopping.  How much longer before they do the same thing with realtors? A year? A month?
Excerpts from HW article:
http://www.housingwire.com/articles/35677-google-launches-mortgage-comparison-tool?
Well, it's official. Google has come to mortgages.
After first being reported earlier this year, Google is launching its own mortgage comparison tool via its Compare service.
"Google Compare for mortgages provides a seamless, intuitive experience that connects lenders with borrowers online," Google posted on its website Monday.
"Whether you're a national lender or one local to California, people searching for mortgages on their smartphone or desktop computer can now find you, along with a real-time, apples-to-apples comparison of rate quotes from other lenders — all in as little as a minute," Google continued.
"Borrowers can also see ratings and read helpful reviews, and enter relevant information — like loan amount, estimated credit score, or home value — to receive rate quotes that match their needs," Google said. "They can then visit your website to apply directly online or over the phone through one of your agents or loan officers."
Powering Google Compare for mortgages will be Zillow Group and LendingTree, both of which announced Monday that they will be partnering with Google to provide mortgage information to the search engine monolith.
According to Zillow, lenders who use Zillow Group Mortgages for their marketing efforts will now have their rates, ratings and reviews prominently displayed on both "the world's most popular search engine" and "the most visited real estate media network in the country."
Zillow's announcement goes on to say that Google has worked with a number of providers to provide a diversity of relevant results and purchasing options to users.
"With today's launch, borrowers searching for mortgage custom quotes on Google Compare for Mortgages will now have seamless access to Zillow's industry-leading real-time lender rates, reviews and ratings on both desktop and mobile devices," Zillow said in a statement.
"The mortgage shopping experience allows borrowers to shop anonymously, browse through more than 200,000 local and national lender reviews published on Zillow and choose to contact the lender best suited to meet their needs."
Read full article here:
http://www.housingwire.com/articles/35677-google-launches-mortgage-comparison-tool?