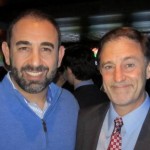 Auctions have a seat at the house-selling table, and their ultra-low opening bids are eye-catching for buyers hungry for new product.  Will one player emerge from the pack to dominate the space, or will every realtor be offering an auction option some day? These guys are figuring it out – it's better to cozy up to agents, rather than try to replace.
From the wsj.com:
The hors d'oeuvres and drinks were flowing at an Auction.com broker party in Midtown last week when Rick Sharga shushed the crowd of commercial real-estate brokers to explain to them why the online property-sales service is their friend, not their competitor.
About 75 brokers from the New York region were at the event, lured in part by Auction.com's promise to give away five $1,000 gift certificates. The service—one of the largest online property-auction sites—also is offering brokers $5,000 for simply listing one of the properties they represent on the site, whether or not it's actually sold.
"We believe the best model is a hybrid model" that combines traditional brokerage and Auction.com's online bidding service, Mr. Sharga, an executive vice president with the firm, told the crowd.
Auction.com is launching a major push to develop stronger ties with brokers as part of a broader effort to expand its commercial-property business. The firm, which started online real-estate auctions in 2008, has been listing commercial property since 2009.
But so far its volume has been dominated by residential sales.
The firm expects to sell 1,000 to 1,500 commercial properties this year and 50,000 to 60,000 homes.
Read full article here:
http://www.wsj.com/articles/auction-coms-delicate-real-estate-expansion-1447641268