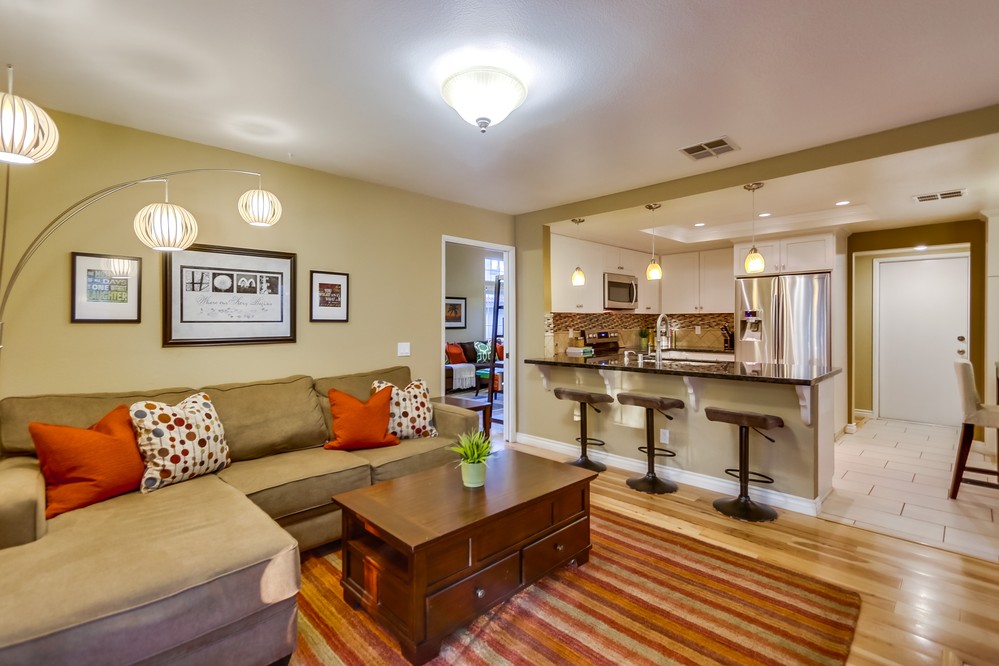 The process of selling a house has many variables – let's keep examining.
What were the comps used to determine the price?
The most important thing about evaluating the comps is to see them through the eyes of the buyers.  I cannot stress enough how critical this is to selecting an attractive price – every seller has a high opinion about their house, but they're not the ones buying it.  Today's buyers are looking for any reason not to buy, and they are being conservative.
Consider those thoughts as we progress here:
A. The last sale of this model closed for $612,000 in June, 2014:
http://www.sdlookup.com/MLS-140023602-13493_Chelly_Ct_San_Diego_CA_92129
It had been moderately upgraded to sell, and you could say that the backyard was a more normal setting.  My listing on Chaco had superior upgrades, which makes buyers feel good, but they prefer to pay about the same as the last guy for them.  This is where over-improving your house for the neighborhood can get you into trouble, price-wise – you're not going to get a dollar-for-dollar return for the good stuff.
A discerning buyer would probably call them even at best, because they will be tempted to ignore it altogether because of it being old news   The San Diego Case-Shiller Index has gone up 6% since, so let's adjust accordingly, even though no appraiser will use it (they want/need comps from the last six months).
Comp #1 adjusted value = $648,720.
B. This is a 5% larger one-story model in Crestmont that closed for $612,000:
http://www.sdlookup.com/MLS-150041823-8811_Sparren_Way_San_Diego_CA_92129
The original list price was $645,000, but after three weeks they put it on the range $615,000 – $645,000.  Eighteen days later, the listing agent found his own buyer who paid $612,000 cash, and it closed on September 16th.
The house only had a couple of upgrades, and my listing had at least $100,000 of improvements. We already mentioned that you don't get full value, but for the sake of evaluating I'll assign a 50% credit. It means we need to deduct $50,000 off this comp – but then add back 10% because it was a one-story plan which have been selling for a premium over two-story plans because of the older folks.  The 'cash' purchase would indicate these buyers were probably elderly on this sale, and they probably ignored or didn't realize that nobody else was willing to pay $615,000 for this house so they may have been able to grind out a better deal.
Buyers evaluating this sale as a comp may not think that hard, but as a listing agent trying to factor in every variable, I need to consider that the $612,000 sales price here could have been optimistic.  But I'll subtract the $50,000 for improvements and add 10% for one-story.
Comp #2 adjusted value = $623,200.
C. Same one-story model as above that closed for $605,000 two weeks ago:
http://www.sdlookup.com/MLS-150047953-8849_Ellingham_San_Diego_CA_92129
This house was in original condition, so I'm going to subtract a little more – $70,000 – and add back the same 10% even though this was an estate sale by the original owners who paid $150,000 in 1988.  The seller was recently widowed and didn't try too hard to sell, and let's face it, a quick $605,000 was a big win.  It was listed on the range $590,000 to $605,000, and the buyer went direct to the listing agent, but we can call it a mostly-retail sale of a house in original condition.
Comp #3 adjusted value = $595,500.
There are two pending comps to consider too:
D. This 1,486sf one-story with $50,000 in improvements was listed for $635,000 and went pending in five days:
http://www.zillow.com/homedetails/8756-Twin-Trails-Dr-San-Diego-CA-92129/99572944_zpid/
E. This newer 4 br/2.5 ba, 1,733sf house listed the day before us for $674,900, and went pending in 4 days.  Hopefully it got bid up:
http://www.zillow.com/homedetails/13347-Russet-Leaf-Ln-San-Diego-CA-92129/16774611_zpid/
The Wild Card
F.  This 1,681sf two-story house has $120,000 in improvements with pool and backs to the canyon.  It sold for a whopping $730,000, which was above the top of the range ($699-$729) in six days:
http://www.sdlookup.com/MLS-150030194-13587_Calderon_Rd_San_Diego_CA_92129
THE LIST PRICE SUMMARY
My seller has taken a new job out of the area, and wanted a realistic assessment of the market.  Many sellers would ignore the rest, and jump on the $730,000 as proof that more buyers will come along and pay the same.  But given the rest of the evidence, a normal buyer will throw out the high sale and use the rest as the accurate market data.
The realistic range for my listing was $600,000 to $650,000, and because we had the 100,000 in improvements it deserved to be at the top of the range.
I didn't have a problem with angryPQneighbor expecting a higher sale – I had every intention of selling it for more.  My seller saw my reasoning that pricing the home attractively would create more action and urgency early on, and create a frenzy-like bidding war.
Other Factors:
1. Zillow reported lower school scores on the subject property's zillow page.  I addressed them in my remarks, and included snips of the actual scores of 10 for each school in my photo galleries.  I think that lends respect to the equation in the buyers' minds.
2. The zestimate for my listing was $630,000, and after I inputted my listing there, they dropped the zestimate to $614,749.  You have to anticipate that bad things will happen that are out of your control. But price fixes everything.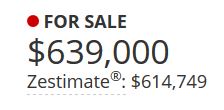 3. Zillow also has this new local market meter that is positive for Rancho Penasquitos in the small print, but the 'Cool' and blue color could dissuade buyers from looking at it much harder: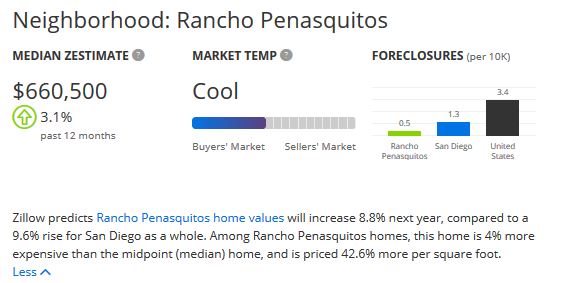 4.  The biggest factor in my mind was the experience of the buyers' agents.  Any agent can handle writing an offer on an attractively-priced listing, but the houses priced too high tend to befuddle all but the best agents (who are good enough to lowball you anyway).
It was competitive to the end between the six offers – five submitted their highest-and best offer, and it was close.  We took the buyer represented by an agent who had closed 32 sales in the last 12 months.  The other agents averaged 8 sales in the last year, which was still pretty good.  But if we hit any bumps in the road, I want to take my chances with the most experienced agent.
We still have a long way to go to the finish line. But this is the type of start every seller should appreciate – you got a good price, the hassle of showing the house was over in 6 days, and the chances of it closing are pretty good when the buyers knows he beat out five other contenders!
Get Good Help!