The recent N.A.R-commissioned DangerReport surveyed thousands throughout the industry, and found that the #1 threat to agents was…….fellow agents.
In particular, the inexperienced and incompetent agents that threaten the credibility of others, and the industry as a whole.  Several other obvious threats were mentioned, but none polled higher. A recent Inman survey found the same result too.
Yet, the agent population in California has been rising.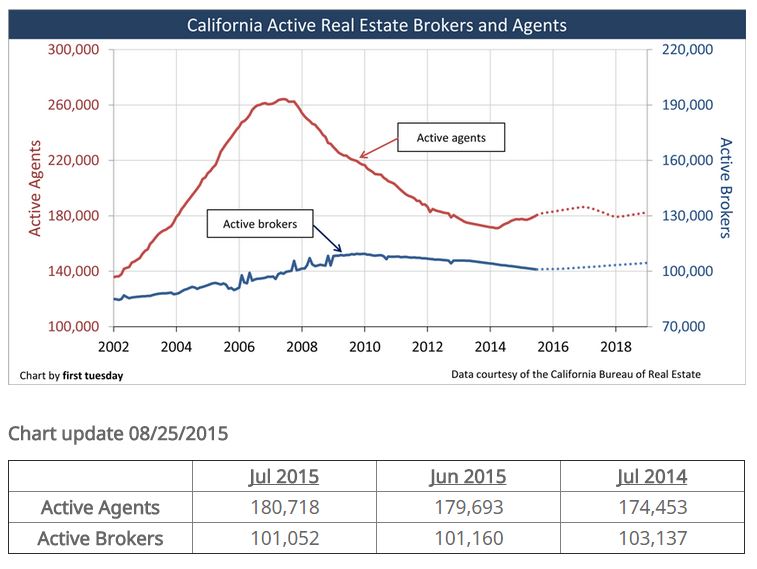 http://journal.firsttuesday.us/the-rises-and-declines-of-real-estate-licensees/2983/
What can be done?
The big brokerages feast off the new and inexperienced by giving them the worst commission splits.  It's a fine line about training up the agents too, because once they get their chops up, they are prone to leave.
An answer?
Have realtor.com include the sales counts of each agent on their website.
They are the portal that has direct access to all the MLS systems, and are looking for an edge to exploit in their race with the Zillow Group.
The agent sales on Zillow are manually inputted by each agent, who also has to promise that they are truthful.  If Realtor.com culled the sales themselves, they could tout that they were untouched by agents' hands.
There would be the same complaints as last time, but if Realtor.com held their ground knowing that the stats were accurate, the rest of the industry would have no other choice but to embrace the results.
It would help to expedite the evolution of realtors, which we can see below isn't happening too fast on its own: