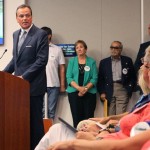 From the UT:
http://www.sandiegouniontribune.com/news/2015/aug/25/plan-for-carlsbad-strawberry-fields-plan-draws/
A costly, well-organized campaign to build a Nordstrom-anchored shopping, entertainment and open-space destination on the shore of a Carlsbad lagoon ended with the City Council's unanimous approval late Tuesday night.
"This project is compatible with my vision and my values," said Councilwoman Lorraine Wood before the vote. "A true leader makes a decision based on what they feel is right."
Several hundred people attended the Carlsbad City Council meeting, where more than 130 residents spoke before the council voted to approve the Caruso Affiliated-backed citizen initiative without changes. The only other choices for the council were to call a special election or take 30 days more to study the plan.
"You have my word that we will surpass your wildest expectations," Rick Caruso, founder and CEO of the company, told the council as he explained his Agua Hedionda South Shore Specific Plan, also called the 85/15 plan, and presented a short video.
Carlsbad is the third Southern California city this year to see a citizen-led initiative backed by private financing power its way around the municipal development review process. The Carson City Council unanimously approved an initiative in April to allow construction of a stadium to be shared by the San Diego Chargers and Oakland Raiders, and Inglewood approved a similar one in hopes of getting the St. Louis Rams.
Caruso's initiative has been a polarizing issue for many in Carlsbad. Some speakers Tuesday said it would be wonderful, "a crown jewel for the community" and "an incredible gift," while others said it would bring much more traffic and pollution, that the publicity campaign was deceptive because it emphasized open space and not the shopping center, and that many people were misled to sign the petition in support of the initiative.
The Los Angeles-based developer and his staff have spent more than three years in Carlsbad, meeting with residents and business owners and hosting bus trips to his shopping center The Grove in Los Angeles. Caruso built a strong following for the project, and many of those residents came out in support of it Tuesday night.
Read full article here:
http://www.sandiegouniontribune.com/news/2015/aug/25/plan-for-carlsbad-strawberry-fields-plan-draws/