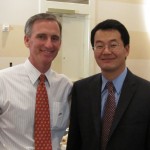 From the WSJ:
http://www.wsj.com/articles/u-s-existing-home-sales-rise-to-pre-recession-pace-1440079684
WASHINGTON—Sales of existing homes climbed in July to their prerecession pace, but low inventory and higher prices threaten to curtail those gains heading into the fall.
Existing-home sales rose 2% last month from June to a seasonally adjusted rate of 5.59 million, the National Association of Realtors said Thursday. Last month's sales pace was the highest since February 2007 and 10.3% higher than a year earlier.
Despite relatively steady gains in home sales in the past year, thinning supply and high prices loom as headwinds that could slow the recovery. As well, mortgage rates could be poised to rise when the Federal Reserve raises short-term interest rates, potentially as soon as next month.
Total housing inventory fell 0.4% at the end of July to 2.24 million existing homes available for sale, 4.7% lower than a year ago. At the current pace of sales it would take 4.8 months to exhaust the supply of homes on the market, down from 5.6 months a year ago, the NAR said Thursday.
Jim Klinge, a real-estate agent in San Diego, said inventory is low in his area because residents are reluctant to move to another town or state. In prior years, high prices would encourage some people to sell and leave town, he said.
He said every new listing generates intense interest from buyers, such as a three-bedroom home he listed Saturday night at $579,000 for which he had already received 30 queries by Thursday.
"We have to recognize that we have a broad-based housing shortage," said Lawrence Yun, the NAR's chief economist. "Home builders have been essentially out of the game or underproducing" since the crash.
The median sale price for a previously owned home slipped slightly to $234,000 from June's $236,300, but is still 5.6% higher than a year earlier. July's prices mark the 41st straight month of year-over-year price gains.