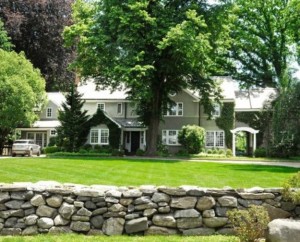 None of the wranglings with Zillow or others will matter much if auctions take hold.  Here's another example of how they are being presented:
LINK HERE to story.
An excerpt:
The property is being auctioned through Premier Estates in conjunction with local listing agent Shelly Tretter Lynch of Sotheby's International Realty. Tuvia Sablosky, director of sales for Premier Estates, is directing the auction, which is the first Premiere Estates has conducted in Greenwich.
"This is the first time we've done this in Greenwich, but we've done it all over the United States and it's been very successful," Sablosky said. "It's not so much affected as far as location, it's more sellers who are interested in an accelerated sale. There's a specific date where the property is expected to be sold and buyers have to make a decision by a certain date if they're going to make an offer. That's really the biggest difference."
Lynch said the Greenwich home located at 591 Indian Field Road has been off and on the market for several years, and now the owners simply want to get the house sold as quickly as possible. As a result, she sought alternative sales strategies and decided auctioning the home could be a great way to accelerate a sale.
"We're really putting this on the fast-paced plan," Lynch said. "This is a fairly new process in this area of the country, but it has been successful throughout the country and there's no negativity surrounding the auction. It's a homeowner making a choice to have an auction and that's really important to note. It is entirely the homeowner's choice."
Selling homes at auction was once considered a last-ditch attempt to unload a property that wasn't selling, but in recent years auctions have become a viable option for luxury home sales by replicating marketing techniques used to sell high-end art, antiques and collectables. According to the National Association of Realtors, the perception of auctioning a mansion is changing because it allows homeowners to set a deadline and hope a bidding war will result in a higher selling price. Sometimes the method results in the home selling below its market value — a risk associated with this method of home sales.