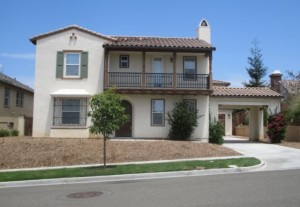 For those wondering if there will ever be any more bank-owned properties for sale, here is the list of 38 houses between La Jolla and Carlsbad that are owned by lenders, or 3rd parties who purchased them at the trustee sale:
NSDCC Foreclosed Properties July 2015
A few are listed for sale, and others are still waiting for occupants to vacate or lawsuits to be settled.  This Bressi Ranch home was foreclosed in April, 2014, and just hit the open market last week at what most would consider to be pretty close to retail price:
The former owners had worked the system – they had been in default since 2008, and endured four different trustee-sale dates before finally giving up the ship.  In the meantime, the lender probably did everything they could to modify the loans?
I don't think anybody has to worry about getting foreclosed unless they have significant equity.