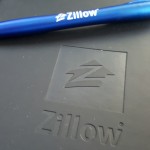 This is pertinent because I'm working on a Zillow add-on for the blog.  Is Zillow relevant?  It's a starting point for most areas, but in pure tract-home neighborhoods they should be fairly accurate by now.  Will sellers listen?
Hat tip to SM for sending this along, from the wsj.com:
On June 14th, Bill Trumbo, a 68-year-old retired financial analyst in Phoenix, Ariz., logged onto his bank's online personal financial management account and found that his house in Phoenix had lost nearly $100,000 in value overnight.
Huh?
The explanation came that same day, when the real-estate website Zillow.com sent out a press release saying it had modified the formula it uses to estimate the value of some 97.3 million American homes, known as the Zestimate, to expand the coverage of its database of homes and improve accuracy. The company had added 25 million new Zestimates, incorporated user-submitted data about improvements and gave greater weight to more recent sales data.
For some, the value of their home went up. Others saw dramatic decreases. Overall, Zillow says, most adjustments in valuation were of 10% or less, and the overall margin of error for Zestimates dropped from 12% to 8.5%, not far off the typical 5% margin of error that most home appraisers claim.
Zillow says that slightly more Zestimates went down than went up, but declined to provide more specific information about exactly how many home valuations went one way or the other. The company also said that there was little variation by region, except that in some markets, Zestimates were made "more accurate" by the revision than others. In Denver, for example, the margin of error for home-value estimates went from 12.2% to 5.5%, meaning that Zestimates there are 55% more accurate than they were before, Zillow says.
Some markets with more volatile housing markets and lots of homes changing hands in distressed-sale situations, saw more dramatic shifts, Zillow says. This is because the new algorithm for calculating Zestimates gives more weight than before to recent home sales, as a way of catching up with the most current local housing market conditions.
Mr. Trumbo, of Phoenix (where Zestimates were made 47% more accurate, according to Zillow), actually got both sides of the stick. His primary residence in Phoenix dropped in Zestimate value from $489,000 to $396,900, but a townhouse he owns as an investment property in San Francisco actually rose in value, from $670,000 to $737,600.
Still, his personal "net worth" statement, which incorporates the value of his house based on Zillow's estimates, showed that he was $40,000 poorer than he had been a week before. He dashed off letters to Zillow's CEO, as well as to the CEO of his bank, Wells Fargo, explaining that Zillow's change had caused him to lose $40,000 in paper net worth.
"These changes have already affected pending financial decisions, but it's really hard to predict the effect of adjusting the net worth of millions of Americans, by billions of dollars!" he wrote in one letter. "Consider the family that used Zillow when deciding on a home purchase two years ago. After paying their mortgage for two years, thinking they were ahead of the game, today they discover that they paid $50,000 too much for the home and were underwater on day one."
Bill Garber, a spokesman for the Appraisal Institute, the main trade group for U.S. property appraisers, said that Zestimates, like most automated valuation models, or AVMs, are not used by appraisers as a benchmark because they are based on public information and information from local multiple-listing services that is often inaccurate.
"Zestimates are a form of AVM … AVMs have limitations, the biggest being the lack of inspection and oversight of any improvements. Complex markets render them nearly useless. They're basically an aggregation of public records data, and public records are riddled with errors," Mr. Garber wrote in an email. "Some AVMs are now intermixing MLS information, which is also filled with incorrect information. Garbage in, garbage out."
Of course, the Appraisal Institute does have a dog in the fight — its members earn their keep by having homeowners or real estate agents pay them to do thorough appraisals of individual properties.
Zillow is not an appraiser, and has maintained all along that the Zestimate is purely a "starting point" for determining the value of one's home, and not an appraisal meant for commercial use. In an interview, Zillow chief economist Stan Humphries emphasized that the company has "never advised that [the Zestimate] be used as a standalone appraisal," and argued that the adjustment of home prices is "actually good for consumers" because Zillow's algorithm for determining home values is now more accurate.
In a statement, Zillow added: "In fact, when a consumer has decided to buy, sell or refinance a home, we always recommend they contact a local professional like an appraiser or a real estate agent. Additionally, we have the only automated valuation model that allows homeowners and their real estate agents to update home facts, like number of bedrooms and bathrooms and square footage."
Still, Mr. Trumbo is not alone in being upset. One Zillow user, in a forum on the company's website, wondered, "why did our home drop $300,000 in one year?"
One can see why the homeowners who lost Zestimate value might be upset. The website's brand has become entrenched, used by real estate voyeurs and homeowners alike. Other websites, such as Trulia and Redin, provide estimates of a house's worth based on comparable nearby sales and tax assessments, but none claim to have such a sophisticated formula for calculating a home's worth. And, of course, there's that catchy name—"Zestimate."
A question remains, though: If Zillow's new formula is truly more accurate, and if that means that some people, like Bill Trumbo, see their home values fall even lower, can homeowners handle the truth?