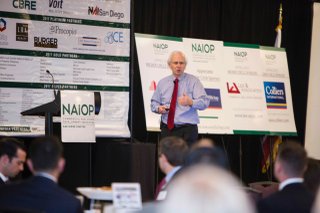 Predicting the future is hard. If it weren't so challenging, we would all be super rich because we could predict winning Powerball numbers.
However, some people do take a crack at it — not predicting lottery numbers — but peering into the future to see what kinds of changes are likely on the horizon.
Christopher Lee, president and CEO of Los Angeles-based CEL & Associates, is one such person. His expertise is real estate, and he recently offered some insights into the future at a meeting of NAIOP San Diego.
For some time, he's been predicting that we are getting close to seeing the real estate cycle to begin trending downward. We're in the seventh inning, he's said.
How does he know this? Real estate follows a familiar pattern, he said. He's written on the subject in a paper called, "Real Estate Cycles: They Exist … And They Are Predictable."
He writes: "Most real estate cycles have begun around the third year of a decade (1973, 1983, 1993, 2003) and usually end by the eighth year of that same decade (1978, 1988, 1998, 2008)."
And what year is it?
Yikes! It's 2018!
That's not all he sees. He predicts that the number of real estate brokers will fall by as much as 50 percent within a decade. They will be replaced by strategic business advisors.
And why is this? Because more and more people get their real estate information from online sources, such as Google. Brokers aren't as necessary.
Lee believes the nature of the workforce itself is transforming as well.
"Work is being redefined," said Lee, noting that we are moving toward an age when freelancers (from Airbnb hosts to Uber drivers) could thrive and where work will start to follow the worker and not the space. Although he expects some 10 million or more jobs to be lost to robotics, he said specialists and niche entrepreneurs with flourish in this new world of real estate.