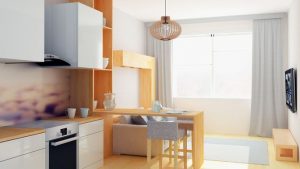 These days it seems like everybody wants a tiny house. But what if your home isn't adorably tiny? What if it's just sadly small?
Don't worry—it's not your square footage that matters most; it's how you present it. Even if you're tight on space, you can fool buyers into thinking things are bigger than they appear—you just have to have some smart tricks up your sleeve. Keep reading for our experts' savviest and sneakiest tips for seeing big returns on the petite place you currently call home.
1. Throw a reverse housewarming party
The less clutter, the bigger your home will look and feel to potential buyers. To get rid of your unwanted items, throw a party before your first open house, suggests Laura McHolm, co-founder of NorthStar Moving.
"Instead of having your friends bring a gift, have them pick one of your items and take it home with them."
2. Go down to the bare minimum
Still feel like your home is full of stuff?
"Box up everything you don't need on a daily basis and anything that's smaller than a football," suggests home staging expert Lori Matzke.
Sift through your glass cupboards and built-ins, and clean off your countertops.
"Leaving just the bare minimum will create the feeling of more space," she says.
That goes for your beloved tchotchkes, too.
"A smaller space tends to favor a more minimalist design, so having all of your collectible figurines on display on the shelves, side and console tables will bring the room in rather than opening it up," says Bee Heinemann, marketing director and interior decorating expert at Vänt Wall Panels.
3. Take your doors off their hinges
Remove all your interior doors, besides those that lead to bedrooms, bathrooms, and closets, suggests G. Brian Davis, director of education for SparkRental. "The farther the eye can see, the better."