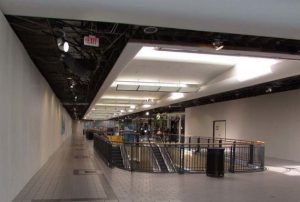 http://www.thecoastnews.com/2016/10/20/rouse-properties-begins-renovations-on-mall/
CARLSBAD — The purge has begun.
Major renovations at The Shoppes at Carlsbad commenced recently as part of Rouse Properties' plan to revitalize and ignite the North County shopping community.
Although details of the cost were not disclosed, Rouse CEO Brian Harper said the company is investing "several, several, several millions" into the dilapidated building. Rouse was bought by Brookfield Asset Management earlier this year, but operates independently. Rouse is based in New York City.
The project is a multi-phased upgrade and will include streetscaping, new skylights, and updated exterior and interior, floors, ceilings and lighting and gathering spaces inside and outdoors. Renovations are expected to in fall 2018.
The previous owner, Westfield, announced several years ago a $300 million upgrade to the mall. However, after extending the facility to include a Regal movie theater and 24-Hour Fitness center, the Australian-based company sold the property to Rouse.
Harper, though, was delighted to land the mall, which he said will become a "diamond" in North County.
"We did a lot of consumer intercept studies and what the citizens of Carlsbad wanted to see," he explained. "We studied the market, looked up and down the coast … and spent a lot of time in San Diego. We really let the beautiful city of Carlsbad inspire us and that's when the vision popped in to transpire the end result."
And while construction just began, Harper said Pizza Press opens next month, while Dave & Buster's opens in January 2017.