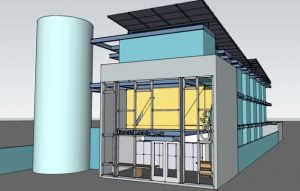 I love this idea – but $140,000 each? Hat tip Eddie89!
The region's first housing project made from shipping containers could open as soon as April, providing homes for 21 formerly homeless veterans and possibly paving the way for hundreds of new affordable and median-priced homes in the near future.
The units are planned for a vacant lot at 2941 Imperial Ave. in Logan Heights.  Each 320-square-foot unit would have its own patio, kitchen and bathroom. While the units will be built from metal shipping containers, they will be insulated and have interior drywalls.