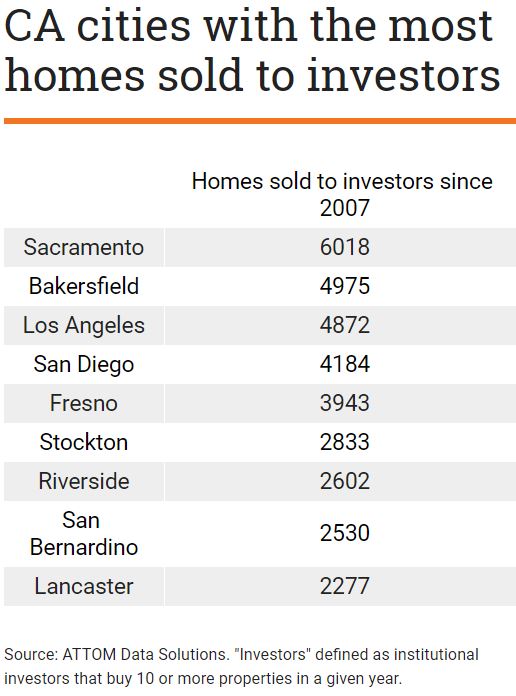 Now that the big investors have virtually stopped buying homes, a legislator wants to find a way to regulate them.
Typically the term "institutional investor" refers to private investment firms that buy dozens of residential properties with the explicit aim of generating a steady income stream through rentals. Often they invest the money of wealthy individuals and public pension funds, like those established for California state workers and teachers.
The best example is Blackstone, a publicly traded Wall Street firm that barrelled into the country's single-family home market in the depths of the Great Recession in the late 2000s. Through its residential investment-focused subsidiary, Invitation Homes, Blackstone is now the largest owner of single-family homes nationwide. In California, they own about 13,000 homes.
But firms such as Blackstone have stopped buying wide swaths of California homes. According to the real estate data firm ATTOM Data Solutions, which defines institutional investors as entities that buy 10 or more homes in a given year, institutional investors accounted for less than 2 percent of the state's single-family home and condo sales in 2017.
That's a pretty steep drop from as recently as 2012, when institutional investors accounted for about 7 percent of sales.
Why the decline? California no longer has a glut of cheap houses that can be easily gobbled up in foreclosure auctions. A sustained economic recovery and a lack of construction of new housing has sent housing prices skyrocketing. It's now too expensive for institutional investors to buy lots of California homes. Blackstone's Invitation Homes bought only 82 California houses last year.