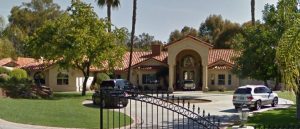 Hat tip Bode!
Neighbors of the late San Diego Padres great Tony Gwynn noticed something strange happening in their upscale Poway neighborhood about two weeks ago.
Last summer, the Gwynn family lost their home to foreclosure and it's been vacant ever since. But suddenly in late December, neighbors told the Sheriff's Department that they had noticed people coming and going frequently from the fenced-off multimillion-dollar residence. One neighbor spotted barrels being loaded into the garage, leading to speculation that a methamphetamine lab might be setting up.
Now, officials with the property management firm responsible for the bank-owned property have confirmed that the man living on the property was squatting illegally in the residence and have begun civil eviction proceedings against him.
Valued at about $2.3 million, the house went into foreclosure in June and is now owned by a New York bank and managed by Ocwen Financial Corp. in Florida. Ocwen spokesman John Lovallo confirmed that it has taken action to evict the man.